A shelving shingle beach which offers a good chance of bass and rays...dogs are as willing as ever
A light onshore breeze is needed to put some life in the sea and tempt the bass to feed,and fishing after dark will enhance your prospects.
The ground where the small river enters the sea is made up of small weed covered boulders,and as such i would expect large crab baits to work well. Walk 100yds or so to the left and you will be on cleaner /sandier ground....the water is also deeper here,and suffers less from that horrible silk weed.....crab/lug should work well for bass,while a sandeel/squid wrap launched on to the sandy patches should find the rays.
As ever,rising spring tides will probably be best,and a recce at low water to suss out any gullies is advised.


Getting There......From Caernarfon follow the A487 for Porthmadog,then turn off on to the A499 for Pwllheli....about 2 miles after the Dinas turn off you will cross a small bridge/river...(there is an antique shop on the left) turn left as soon as you go over the river and park in the small parking area.Walk back across the road and follow the path alongside the river....it`s a 7 min walk to the beach.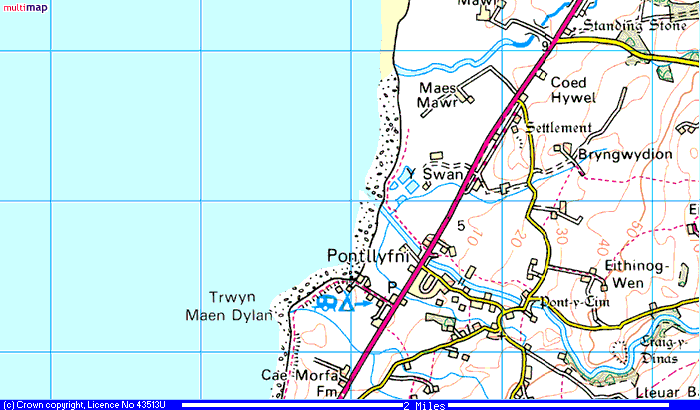 [/img]
General Info