My trip started on Friday afternoon and after a uneventful drive I arrived at the very beautiful Esthwaite. Its a water I've never fished so I set up camp and then worked my way round the other competitors trying to eke out some information on what where when in order to formulate a plan of attack. I set up my kayak so I wasn't faffing in the morning and had a few beers around the fire before retiring to the lake side to eat Doritos and watch out for rises.
Saturday morning came and normally I'm a pitiful mess but owing to a early night I felt great. At the sound of the shotgun we set about the task in hand, catching a Trout, Perch and Pike. I started working the drop offs looking to locate the perch after a hour and not a bite trout around me started to rise, not one to miss a opportunity on went a spinner and I cast at the rises. 10 mins later the rise had stopped the fish dropped away like ghosts. Luckily I'd landed a fine Brownie of 42cm and bumped a few others. I was happy now I'd had the hard one ticked off. I continued to work away at the Perch but non where forth coming. I headed down the lake stopping to speak to other competitors I passed to see what had been coming out.
Mike Taylor pointed me in the right direction for a Perch and after a few missed bites on the drop shot I had a littlen, I knew I'd need to better it but I was well on my way to the Slam with just a Pike outstanding but I decided to fish on for the Perch while they where feeding. I had a few more small ones with the biggest going 19cm. I decided I'd wasted enough time on small perch and starting focusing on the Pike. I headed to a bay and fished the stick ups with nothing to show for it. 3 o'clock came and so did the rain and it didn't half come down, the thunder started but it seemed distant so I headed for a tree line 'just in case' and carried on fishing tight to cover where I was rewarded with a small pike but it was the slam and I was happy.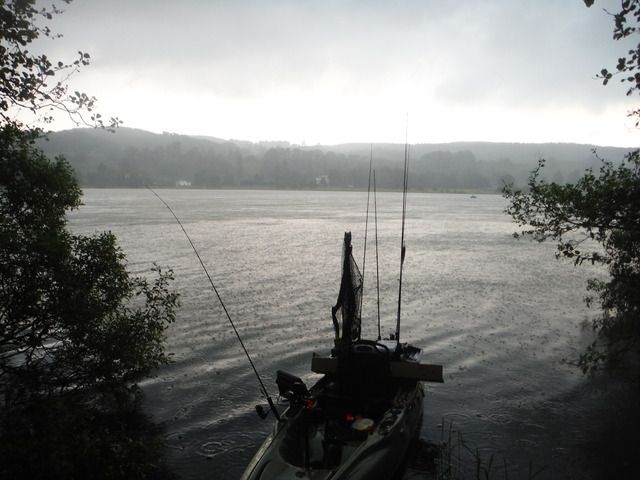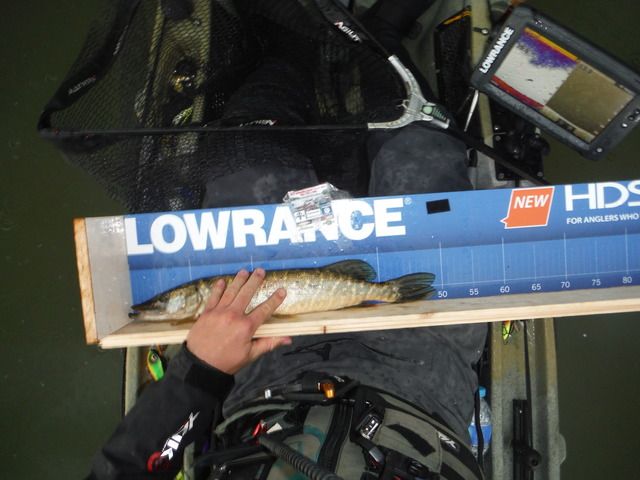 Things started lighting up and I heard on the VHF forks where hitting the hill behind me. Understandably I didn't want to cross the open water back to camp so I found little opening in the trees and came ashore leaving my high end conductors with the kayak and I went for a little walk in the woodland where I came across a Dad and Lad combo who had been out on the boat but where now also seeking shelter from the storm.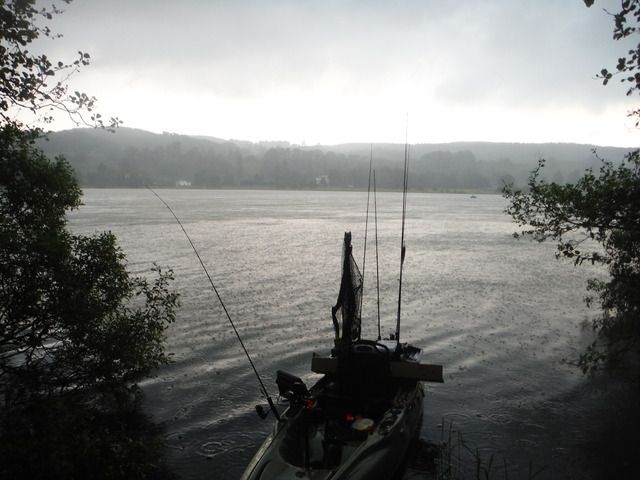 By four it had eased off so I shot across the lake to have some hot food and reorg. I was ready to go back out again 'til the heavens opened once again so I made another brew and sat in the van and waited for it to pass. I headed back out to where I'd had the perch earlier and fished a bigger soft plastic on a jig in hope of a better Perch, bigger lure means bigger chance of hooking a pike so I added a small K2K trace, water clarity wasn't great so I was hopeful it wouldn't put the Perch off. It certainly didn't put the pike off but no more Perch.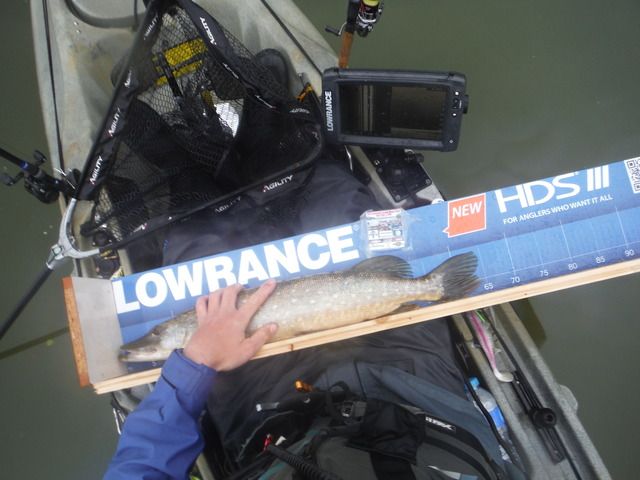 I headed to a small bay as the light fell for some top water fun and managed to get a few strikes from jacks on a spro frog and lost a jack to the lilies pads but had to leave so I was in before 10. I had a few beers and shared stories and marks, more people than I expected had managed the slam but a lot of people where struggling for a trout and talking to those that had caught one mine was on the better side of average so I was happy with my trout so I needed to bump up my Pike and Perch. I set the alarm clock for 3:30 am as we where allowed back on the water at first light.
The alarm sounded and I could hear people shuffling outside but I decided I needed another hour. I lost an hours fishing but the sleep was needed to make sure I was on the top of my game. I had a strong coffee and headed out for a early morning shift. I thought I'd work on my Perch first as at 19 cm It could definitely be improved whereas my Pike at 62.5cm while not good by the sounds of it it was also not bad. I found a nice tight shoal of bait fish mid water just off a point and I knew something was working under them. Down went the drop shot with a small lure and I had a few bites to confirm perch where present. I casted a jig around and had a 33cm Perch on the drop, get in
I continued with the jig and threw a few small cranks but couldn't find another Perch. I headed back in for some breakfast and another coffee.
Back out again I wanted to work on my Pike, I worked the deeper drop offs with large lures to avoid the Jacks as after 3 Pike in the comp we had to stop targeting them. With nothing showing I tried the margins and a few casts later a sub 50 cm jack hit a 7 inch Replicant FFS game over as I'd had 2 pike the previous day. I searched high and low for perch and trout with nothing to show for my efforts. I came across a lot of bait fish hard on the bottom in a bay and worked around them. I was at the end of my drift and about to call it a day when I had a bite, the jig settled again before the rod bent into a fish. A better Perch of 23cm, where there's one the two and down went the jig again and bang 35cm of Perch lay in the trough. Fish located I switched to drop shot and I fished on for another hour landing 20 or so Perch with 5 going over 30cm but no bigger than 35. I was certain a better fish would have been down there but time was out and I had to head back in.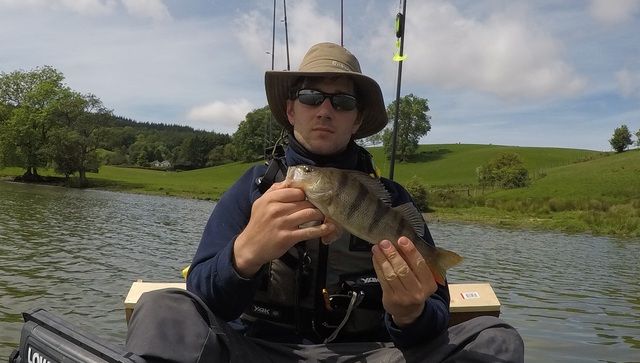 I filled out the returns slip and loaded my rig into the van and went over for the presentation and I was delighted to have came third. Well done to John Walker on Second and Sam Baxter on First. Big thanks to Mike for running the event and also the event Sponsors, Navionics, Flambeau, Hobie Cat Centre, Reuben Heaton and whoever else I missed. Finally thanks to the team at Esthwaite for allowing the event to take place and also running and maintaining such a beautiful venue. I certainly won't be waiting till next year to go back that's for sure.