For those unaware; This year was the first year the Pitsford Kayak Grandslam Competition was held. Its a lure only event where the lengths of your largest Pike, Trout and Perch caught over 2 competition days are added together and the angler with the greatest combined length wins.
I'd been contemplating fishing the Pitsford Kayak Grandslam competition since Llangorse but I left it fairly late before committing to it. In the end I decided that it made sense to fish it for a few reasons (not that I need one to go fishing) but it was the fact that the Grafham Competition is in 2 weeks time and I was still yet to fish for never mind catch a Perch from the kayak that did it for me and there would be plenty of people on hand in a relaxed environment to give me help and advice but I'm not quite sure it worked out that way
and of course its always great to catch up with friends and also make new ones.
I arrived at the reservoir Thursday night and was greeted by Terry (self appointed gatekeeper). It wasn't long before my camp was set and we were heading for the Pub with Graham in tow. The Ale was nice but the food wasn't exactly what we where expecting for steak there was not. The menu wouldn't have looked out of place on a Michelin starred restaurant and to be fair the food tasted great but fine dining portions were never going to satisfy 3 hungry fisherman and we went back to the site with empty stomachs and empty wallets.
Friday, Practice Day;
I don't know why but Terry insisted on waking me up at 7am even though we couldn't launch til 9 but thinking he knew something I didn't I got up and after my coffee and bacon buttie I sat round waiting for over a hour before we set off for the fishing lodge
Once paying the hefty ticket cost of £29.50 we pulled up at the launch point were several others where already setting up and after a brief fishing show and tell and a quick waggle of each others rods we to set up and headed out onto the vast expanse of water.
I'd be fishing an hour and had a big take and also lost a decent jack at the net, all the indicators to a good session where there but the only thing I caught was the sun.
Saturday, First Day of competition Fishing from 9:30 to 8:45
Dane had booked the weather well in advance and it was glorious. The sun was sent the mercury rising but there was nice gentle breeze blowing down the reservoir to cool us down. I knew my best shot at a Trout in these conditions would be early morning so I targeted them first on my fly rod, in less than half a hour I had two on the kayak... at the same time. Getting them both on the measure and photographed was challenging with a fly line wrapped around everything but I was absolutely delighted with my fish double header of Trout, not something I'm sure I will repeat any time soon
I then headed down the lake in my quest for a Perch. A lot of time was wasted trying to locate them but I finally managed to get amongst them albeit small ones with the odd one big enough for the stick. David took note and joined me but after a few unsuccessful drifts asked me what I was catching on, I handed over a small gold shad and first drop he hooked up, I think its mad how fish just tune into a certain colour/lure action they certainly know what they want!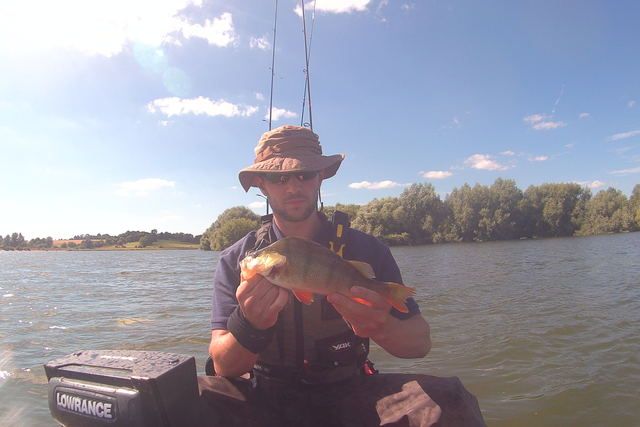 David also had a trout to his name from earlier on and we both wanted the Slam before we went back for the BBQ at 5:30 so we set about a Pike working lures over dense weed beds. I kneeled up on my seat to get a better view and located a narrow path between two beds a few cranks of the handle on my second cast and I had probably one of my most memorable takes, there was a huge bow wave as a pike broke rank 20ft behind my lure and pursued it. It hit the lure so hard and fast it cleared the water proper heart stopping stuff. The fight was strong but it soon lay in the net and once photographed it was a great sense of achievement and also a relief to be able to shout Grandslam
I peddled back out from the shallows to see David cradling a Pike of his own to great stuff. Now just the 40min peddle back to base
The BBQ was great and was just what was needed after a long day on the water but there was 2.5hrs of game time left... was it worth heading back up for a hours fishing? I thought so and David followed suit, we both knew that targeting pike would be our best way to increase our scores and that's just what we did.
Sunday, Second Day of competition Fishing from 8:00 to 4:00
On launching there was no doubt in my mind where my chosen area was to be. Strategically I should have spent the day fishing for Pike but I was happy with my lengths after catching a half decent one on the Saturday so I opted to work on my Finesse skills and target the Perch again, the first few drifts revealed the Perch where still there and I had caught a few but couldn't muster anything to improve my Perch length. For whatever reason bites dried up and I was back to searching but in hours of drifts along several promising looking areas all I could find was the smallest Pike I've ever caught and a 24" Pike on a 2" Spikey shad which to be honest was pretty fun on a finesse rod. David had been working hard on his Pike all day but was having a nightmare of a session loosing several fish including one on the measure
but in the end he managed it. The decision was made to head back to the launch area with plenty of time spare as a strong head wind had now built and its better to be a hour early than a minute late.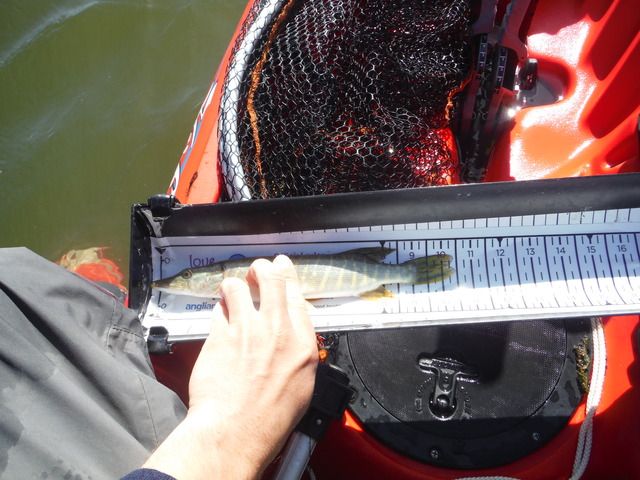 From Measure to Water in single movement, Taught by the best David!
I made use of the hour to fish a spinner shallow for a better Trout. 3 drifts, 3 Trout and increasing my length by a inch in the process.It also ment I Grand Slammed twice over on both competition days not a bad weekends fishing In anyone eyes.
With 60" I managed 4th Place Out of a field of Top anglers so I was more than happy
Well done to Mike Taylor who came first but also Managed Longest Pike and also Longest Perch top dangling mate
I had a fantastic weekend and will certainly be back next year so a big thanks to Dane for organising it all and all the Event sponsers, great work.
Sorry there's not many pictures to break up the text but the water was pretty warm so the fish needed returning ASAP and photographing on the measure took priority so there wasn't enough time to work around the intense sun light for a decent trophy shot.