Due to injury I haven't been fishing since last September so I decided it was time to get out and give it a try, plus I wanted to try out a kayak I got last year but hadn't launched yet. So i got what frozen peeler & softies I had and headed for the Rock Channel to see if and smoothies wanted to play
Here's the kayak ready to launch
The paddle or should that be peddle to the mark was easy as you are going with the tide, on the way I passed quite a few wading through the water making their way onto the bank
A leisurely peddle to the mark
Got there, anchored up and put two rods out both baited with crab, I'd brought the smaller anchor and it wasn't holding, I'd forgot the flow is strong around there, I let nearly all the anchor line out and this helped get a grip. It wasn't long before the left hand rod was nodding and this fella came aboard
I rebaited and re-cast, within a few minutes the other rod was going and another smoothie was on
The fishing was hectic, here's a quiet moment waiting for a bite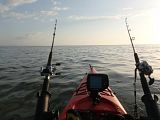 It wasn't long before the left hand rod was knocking again and another smoothie was on its way in, my god can these things pull hard!!
No sooner had I rebaited the rod and cast out abd it was going again, this one was bigger and didn't want to have its photo taken - what a scrap!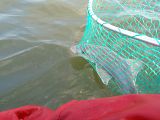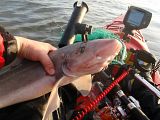 The tide was starting to slacken and these fellas started nibbling the baits
It was time to go home, a great couple of hours and the weather was spot on too
Two starries, two common smoothies and a flattie, its tope time tomorrow!!!