Pester power finally got me out fishing, my youngest lad Dom badgering me to take him, whist his older brother and his nephew were at Army cadet camp
The day got off to a bad start when we realised my lad must've had a growing spurt....there was no way those wellies were gonna fit!!
luckily Howard at Morecambe Angling had just the pair AND he knocked me £3 off...cheers mate!
Sunday's tides were very small, only 7m but low water was 12 noon
So I decided to have a go for early plaice, low water in the channel at Morecambe. With it being a small tide there would be plenty of water left in the channel, and the tide wouldn't race in and push us off too quick
After all the rain the previous day, it was a bright sunny day...but with a deceptively
cold
biting wind
..
Fully loaded with Digestive biscuits and lucozade, we waited.....
And waited.........
There were a few others out too, the chap next to us had come all the way from Wigan........
Fishing was very slow, but often the fish don't start feeding until there's a bit of tide run. The fella next to us got a double of flounder...tho' one of them had a few dull orange spots on, which convinced him it was a plaice...trust me, they were flounders.
I wasn't gonna argue tho' cos he was covered in tattoos and discretion being the better part of valour......that and my mile wide yellow streak and history of being a 'bleeder'.............
Suitably galvanised by the sight of fish, we concentrated on our rod tips.....
And soon enough, after an intense battle
.............
Our quarry, a decent plaice.........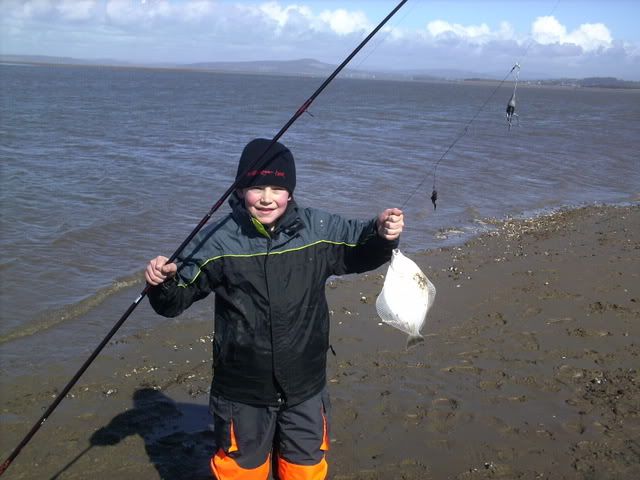 Then my lad came out with this......."Don't worry, we only caught one fish but I've really enjoyed myself.....it's great to spend quality time with you, Dad"
That warmed me up, bless him
.........we stopped at McDonalds on the way home