1st - Lee Hobbs..........................77cm - 11 Points
2nd - Roy Schofield.....................76cm - 10 Points
3rd - Steve Duffy........................61cm - 9 Points
4th - Adam Roper........................56cm - 8 Points
5th - Dave Roberts.......................55cm - 7 Points
6th - Andy Wilmore......................39cm - 6 Points
7th - Graeme Stuart.....................37cm - 5 Points
8th - Jordan Roberts.....................36cm - 4 Points
8th - Gary Swift...........................36cm - 4 Points
10th - Dave Radcliffe.....................35cm - 2 Points
11th - Brian Roper........................33cm - 1 Point
11th - Jeff White..........................33cm - 1 Point
11th - Mike Davis..........................33cm - 1 Point
14th - Ian Welsh...........................32cm - 1 Point
14th - Richie Fisher.......................32cm - 1 Point
16th - Andy Jenkins.......................29cm - 1 Point
17th - Mick McAloon.......................0cm - 1 Point
17th - Stu Davies...........................0cm - 1 Point
17th - Ste Atkinson........................0cm - 1 Point
17th - Dale Edwards.......................0cm - 1 Point
17th - Dylan Kensall.......................0cm - 1 Point
Longest Fish Pool - Lee Hobbs............Codling 51cm.
Round 4 saw us fishing high water for the first time this winter at the Seacombe Ferry end of the Town Hall stretch of promenade. The weather was again really calm and mild and we were greeted with a fantastic afternoon sky and sunset as we arrived. We all made our way down the Guinea Gap and onto the prom for the obligator team photo...............................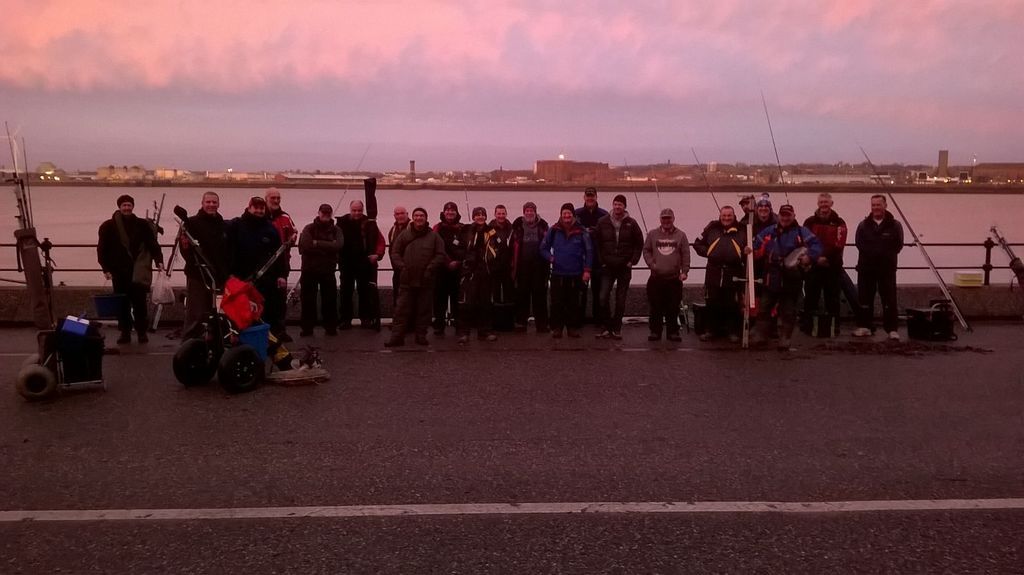 The boundaries were from the Guinea Gap to the Seacombe Ferry which gave us 800 meters of prom to go out however with the format meaning you need to find both a flat and a round, location would be key with the first couple of hundred meters offering clean sandy ground and the remainder being more stony, snaggy and rougher ground. Some people opted for the start of the stretch whilst a few made the walk all the way up to the ferry terminal end.
We were underway and it was a slow start at the ferry terminal end with bites being few and far between however first signs of life were signaled by Jordan Roberts who took a nice Whiting to open his account.............................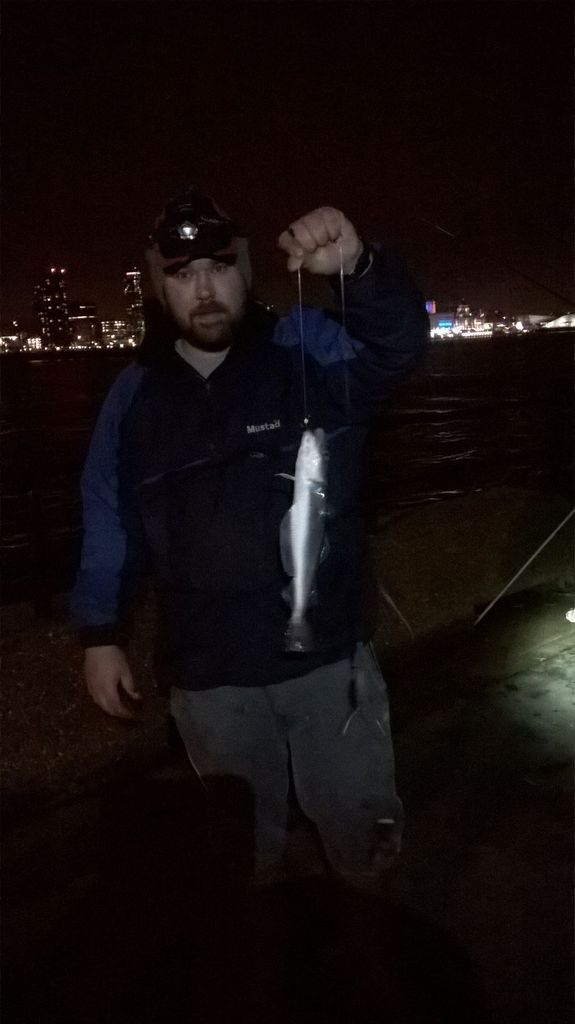 A couple of Codling then came over the rail first to Andy Wilmore of 39cm and then to Graeme Stuart of 37cm which was encouraging however the numbers of fish were still a bit thin on the ground.............................
Down the other end of the stretch towards the Guinea Gap was proving much more plentiful on the fish front and more importantly both in the form of Codling and Dabs. The man setting the pace was Roy Schofield who took three nice Codling in the first half of the match with the best of them measuring 49cm................
Roy had also found a Flat to get himself both fish on his card and set the pace for the rest to follow. Steve Duffy was also hot on Roy's case and had also found two fish to be right up there in contention.
Dabs were proving really hard to come by and a few people upped sticks and moved back down to the clean sand to try and find a space to target one which saw another couple of people get two fish on the board in the form of Dave Roberts and myself.
Lee Hobbs was the only other angler to get himself a Dab and he then followed it up with the best fish of the day in the form of this cracking 51cm Codling. As well as sealing the match win, this fish would see Lee take the longest fish pool on the day and also give him the lead in this years Cod Trophy. Well done Lee.........................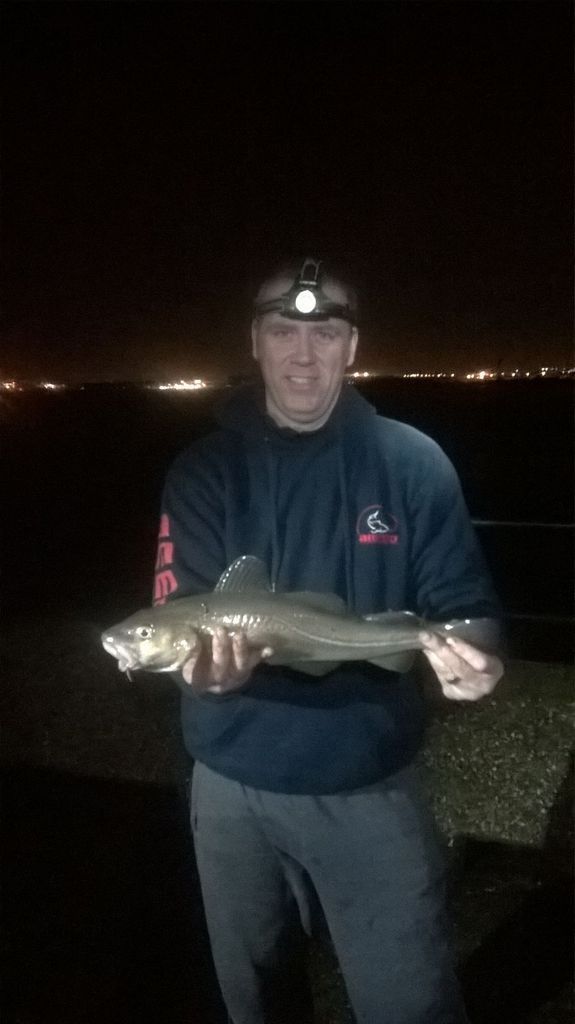 The action continues thick and fast with Round 5 this coming weekend at Kingslake Road.........................
Note - Please ensure you read the match information point in the Round 5 preview thread