Arrived at pensarn at 2 am after a hard days graft and no sleep must be barking . Meet up with good mate of mine gt . Got on the beach two hr before low to pump bait, took spade as well for blow lug with the tide not being to big this morning . Nightmare even on medium tides there normaly are plenty of worms to pump at this venue . Not looking good only managed 10 blacks , dave g t only managed a few blow. There wasn't no blow holes showing at all witch made it hard to get blow not looking good ,dave brought some frozen as a back up . Into the whiting straight away on two hook flapper rig . In no time I was bait less was a bit peed off knowing it was coming up to the peek time the bass feed here.
The writeing was on the wall no bites what so ever on frozen all I could do was watch dave catch a bass on his blow lug and miss a couble more bass bites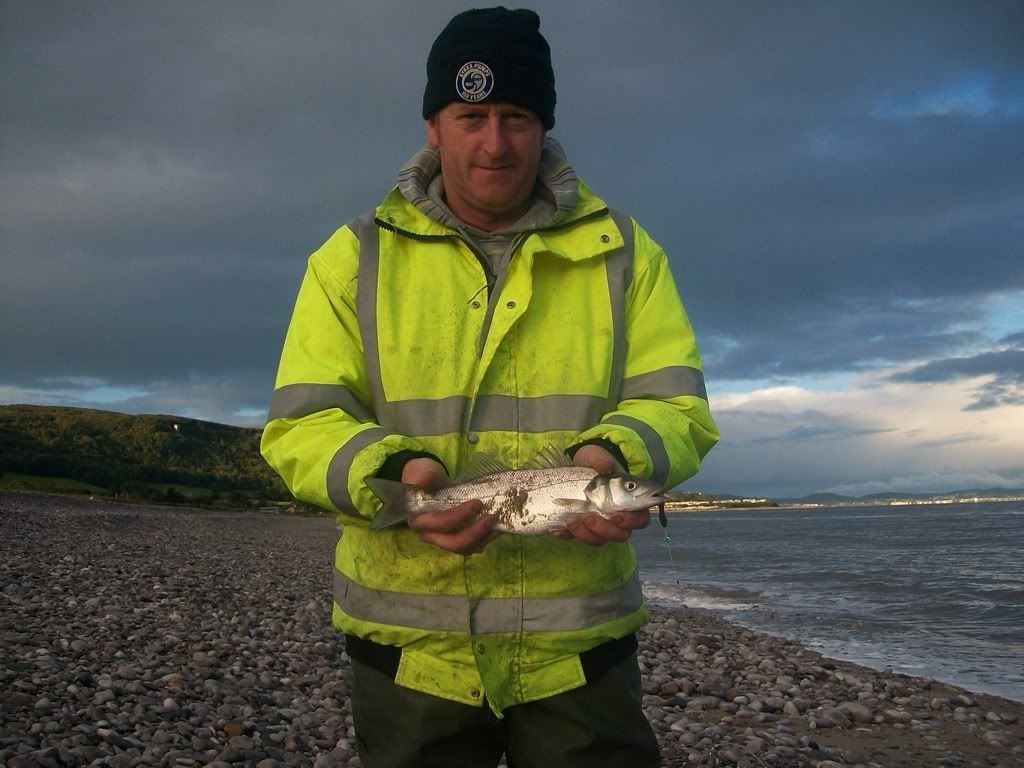 Had some dinner and had 10 mins shut eye then next stop kinmel behind asda it was a bigger tide this afternoon so lets hope the worms where casting better , dave decided he didn't fancy fishing kinmel ,didn't blame him we where knackerd ,catch up with you again soon pal well done on the bass. Paul wild goose meet up with me at kinmel good to see you again pal thank you very much for the coffee and energy drink mate very kind of you . Big difference the worms where here in the bucket loads wasn't long before we both had bucket full . The wind had dropped right down , but the sea looked spot on with nice surf it looked text book for the bass. Wasn't long before Paul had a good pull down bass?
What a beast a bet it would weigh at least three pound, as night time came it was you guest it whiting soup,then I had a reel good pull on fresh black and good helpings of mussel good fish on only to loose it after about a minute nt my day today , but that's sea fishing. Meet some cracking lads there again , nice to see you again tony aka Wormdrowner ,nice to meet you to ken + plus Peter a fellow clay head thanks for brew mate and making us feel very welcome on your door step. Back to fishing the ebb tide kicked in and me and Paul both had a flounder
That's it folks buzzing already for my next trip in two weeks ,ps need to catch up on my sleep zzzzzzzzzzzzzzzz