What a week its been! To say I'm 'cream crackered' is an understatement.
Continuing on from last weekend I've been back out on the hounds for three more hectic sessions where myself and company have experienced some top sport with PB's landed all round and multiple hook ups between us, with myself landing a total of 15 smuts which included 2 new PB's for both a Starry and Common Smoothhound.
Our first session saw myself and Simon change tactics and head for a North Wales venue on Wednesday after hearing reports of smashed up tackle and rods leaving their rests..
It paid off for us handsomely with us getting bites from the off and ending up landing a total of 7 hounds between us including a cracking PB Common of 7lb 10oz for Simon in just a short 4 hour sesh.
Right to the end, the fish were feeding hard, pennel pulley rigs doing the damage and even accounting for a bonus Codling on the top pennel hook on one cast and a welcome surprise of a beautifully marked Huss for me on the last chuck... we just couldn't go wrong!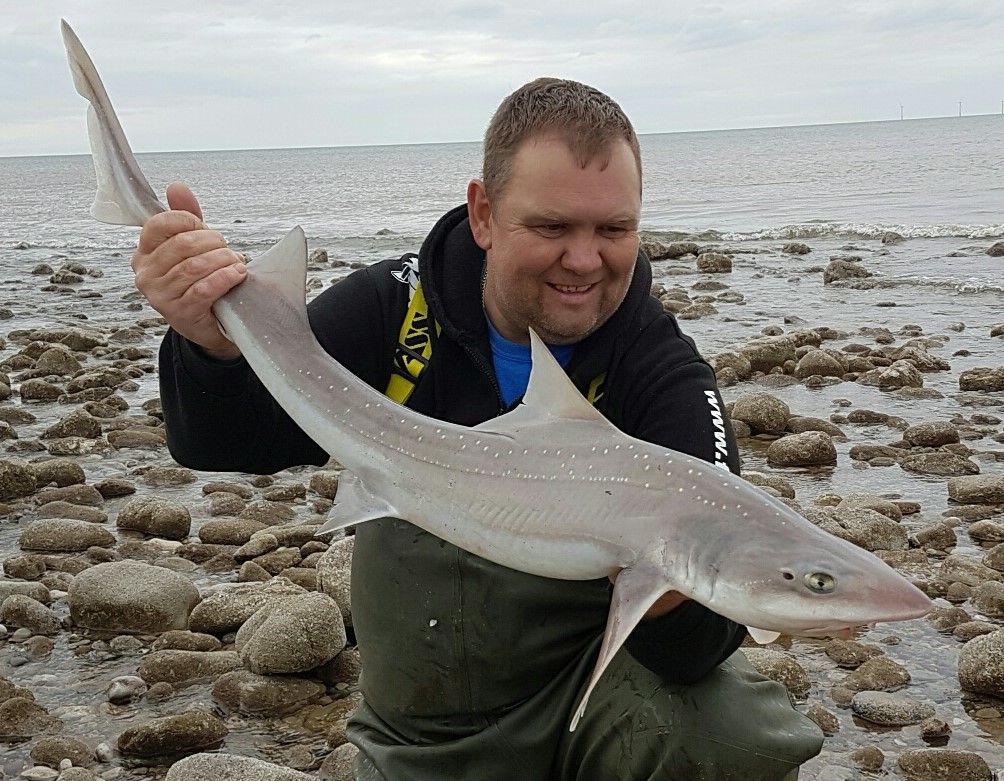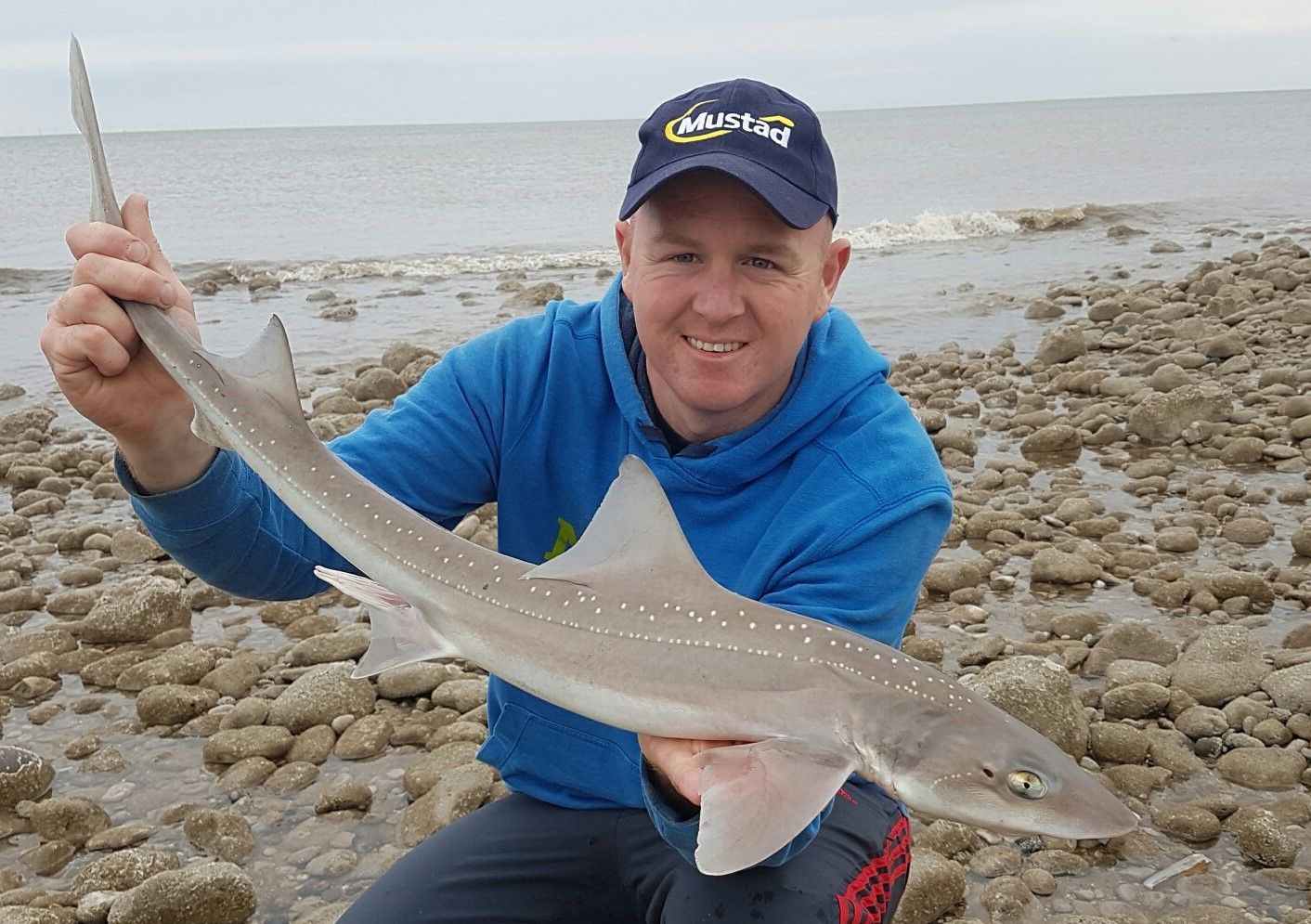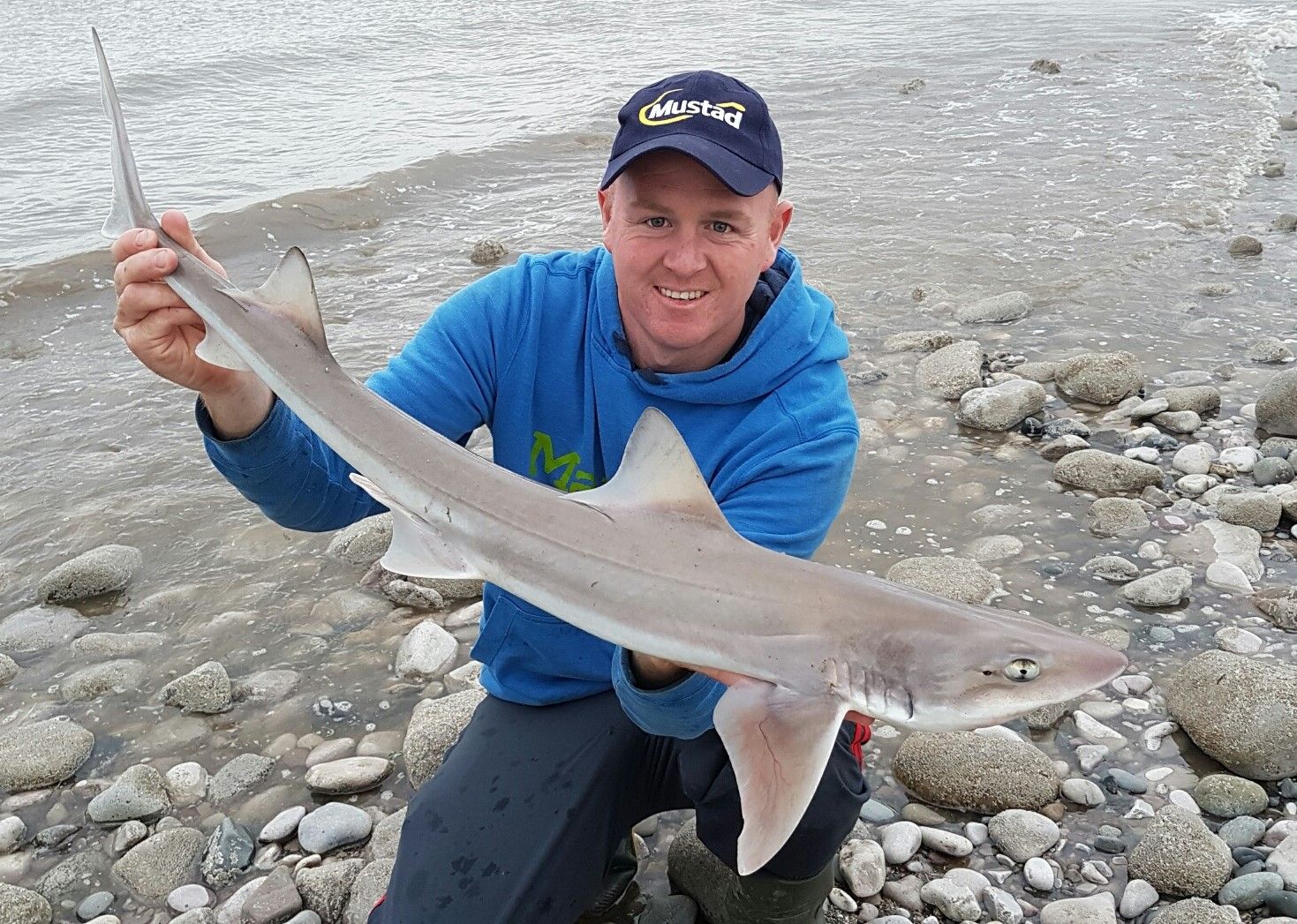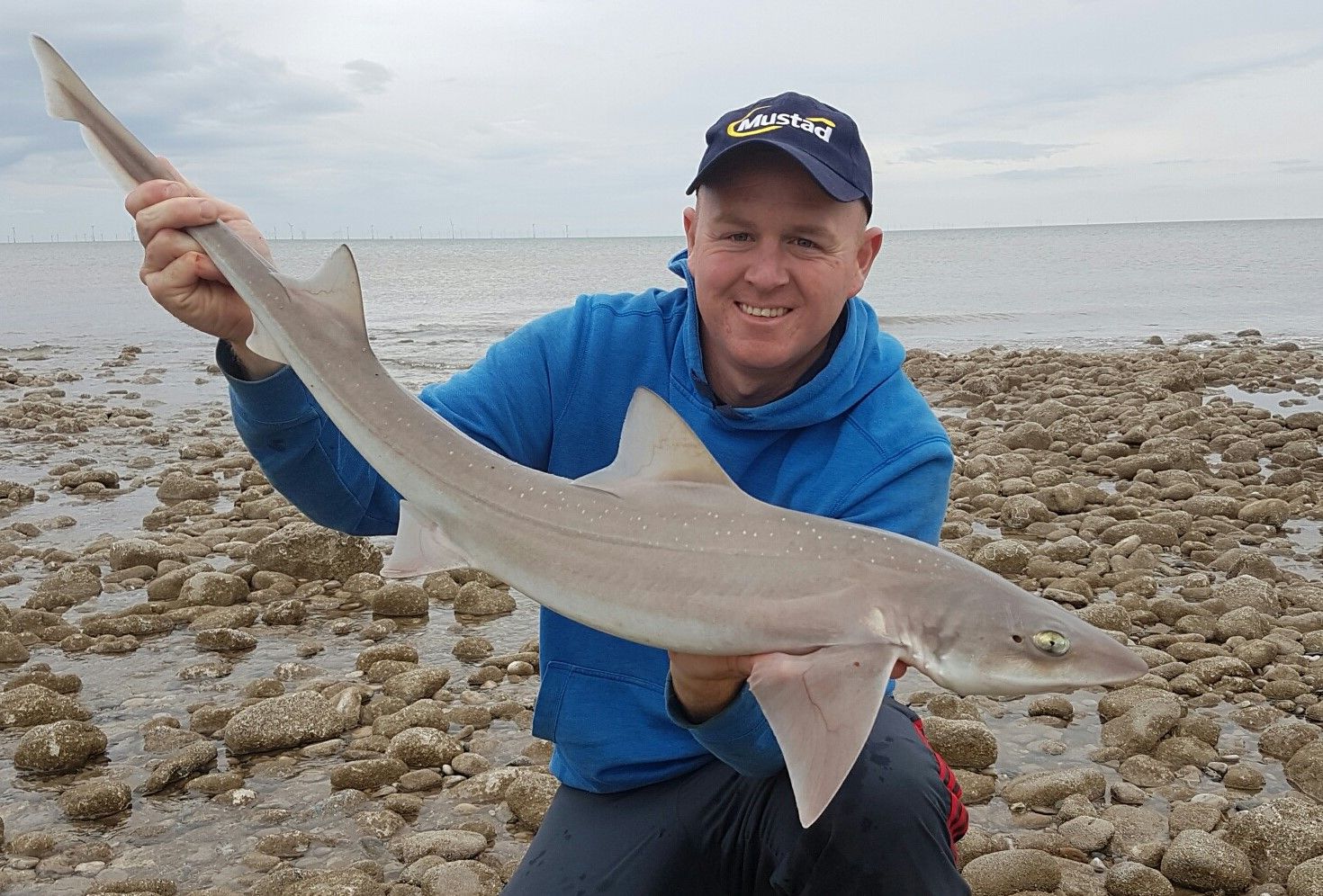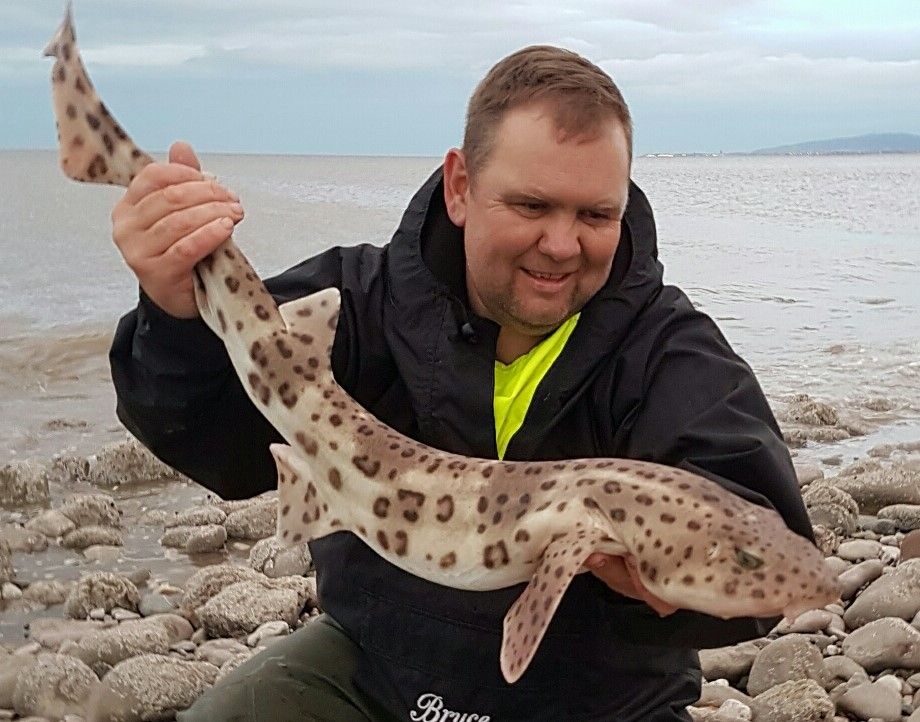 Round 2 on Friday saw us heading back to the Rock Channel with my lad Dylan making his first Channel crossing and also joined by Alan.
None of us had a clue of what awaited us. .
From the moment the baits hit the water (30 secs for me in fact) until low-water, it was a steady stream of bites as a pack os Smoothies smashed our baits relentlessly from all casting distances.
Between the 4 of us we ended the evening with a total of 19 hounds which could have been more only for missed takes and dropped fish.
Best catch of the evening went to Simon with a cracking haul of 8 hounds and a Thornie
.. closely followed by Dylan who smashed it wide open on his first visit with 5 hounds (all over 5lb) including a new PB Common of 7lb 10oz and even landing a fine brace of 7's within minutes of each other, showing Dad how it was done LOL…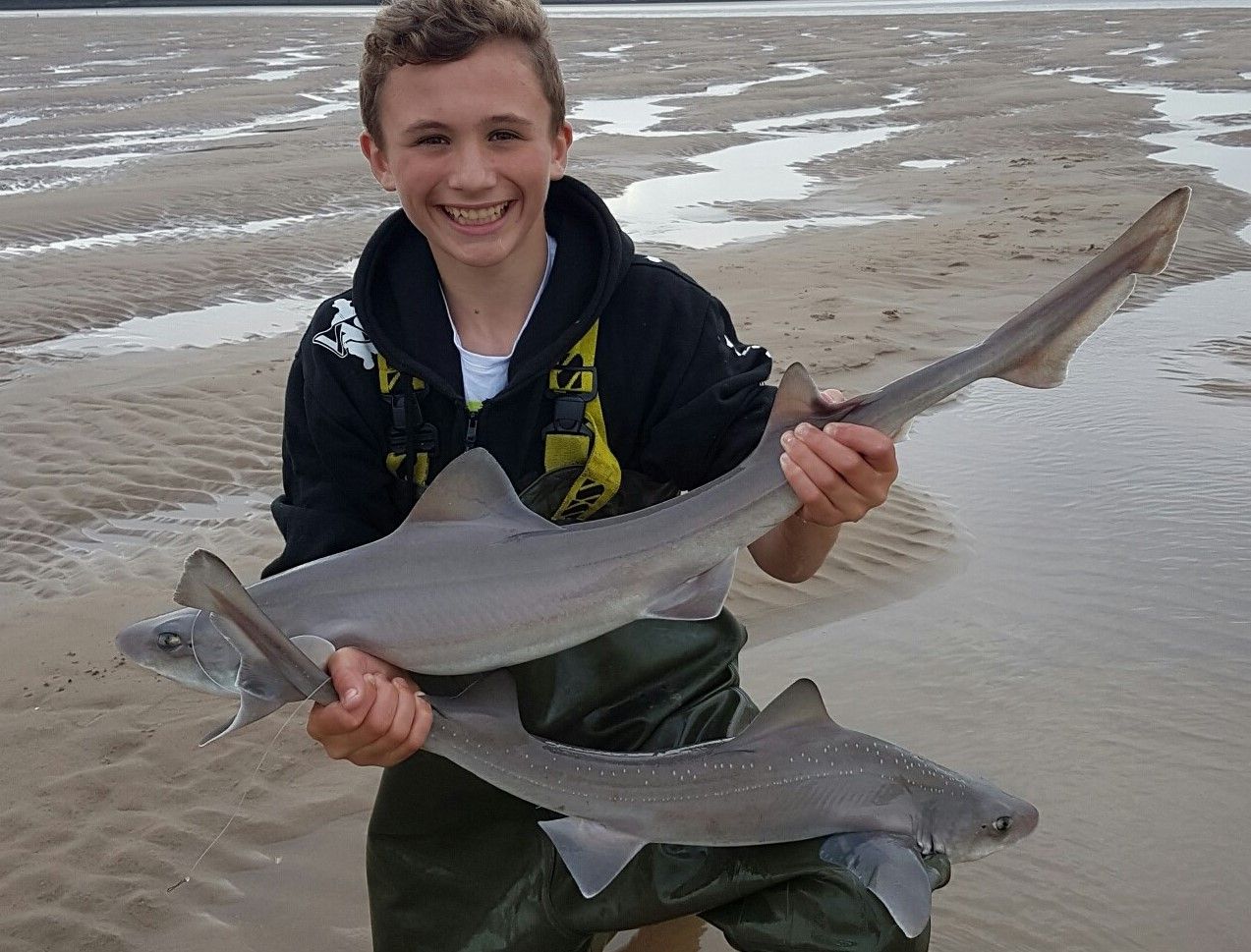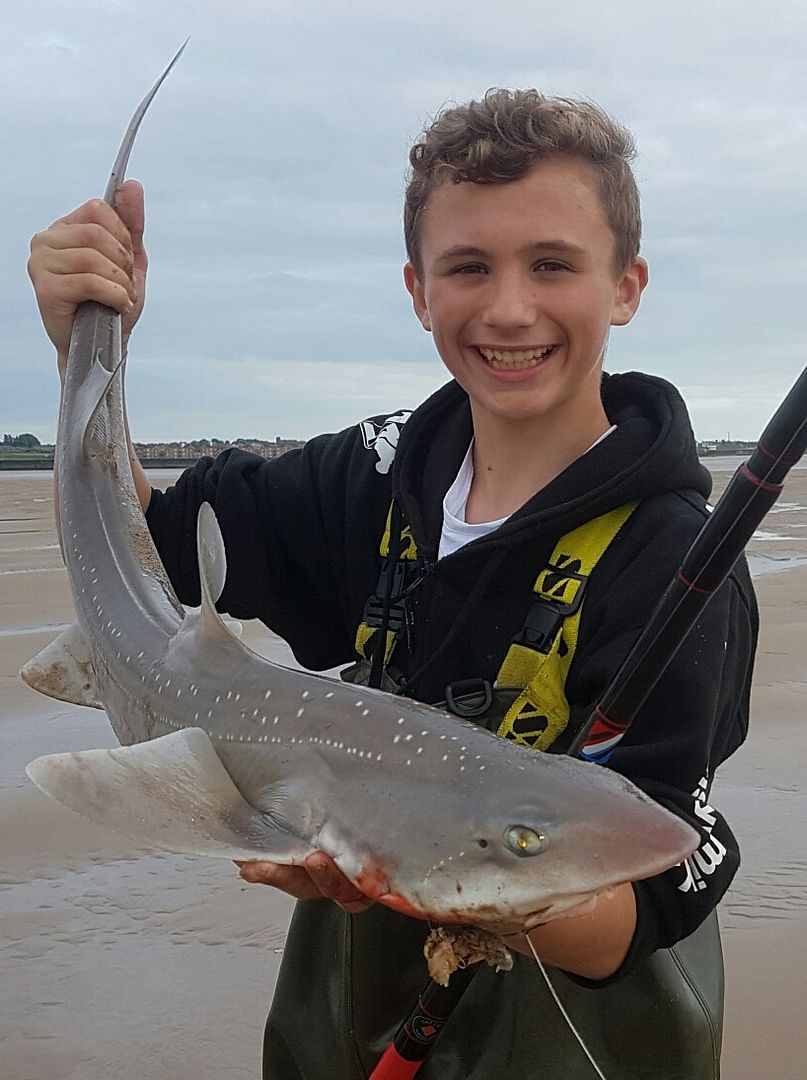 Yet another PB graced the bank when Alan beached a lovely Smut of 8lb 3oz amongst his 4 fish catch with another of 7lb 1oz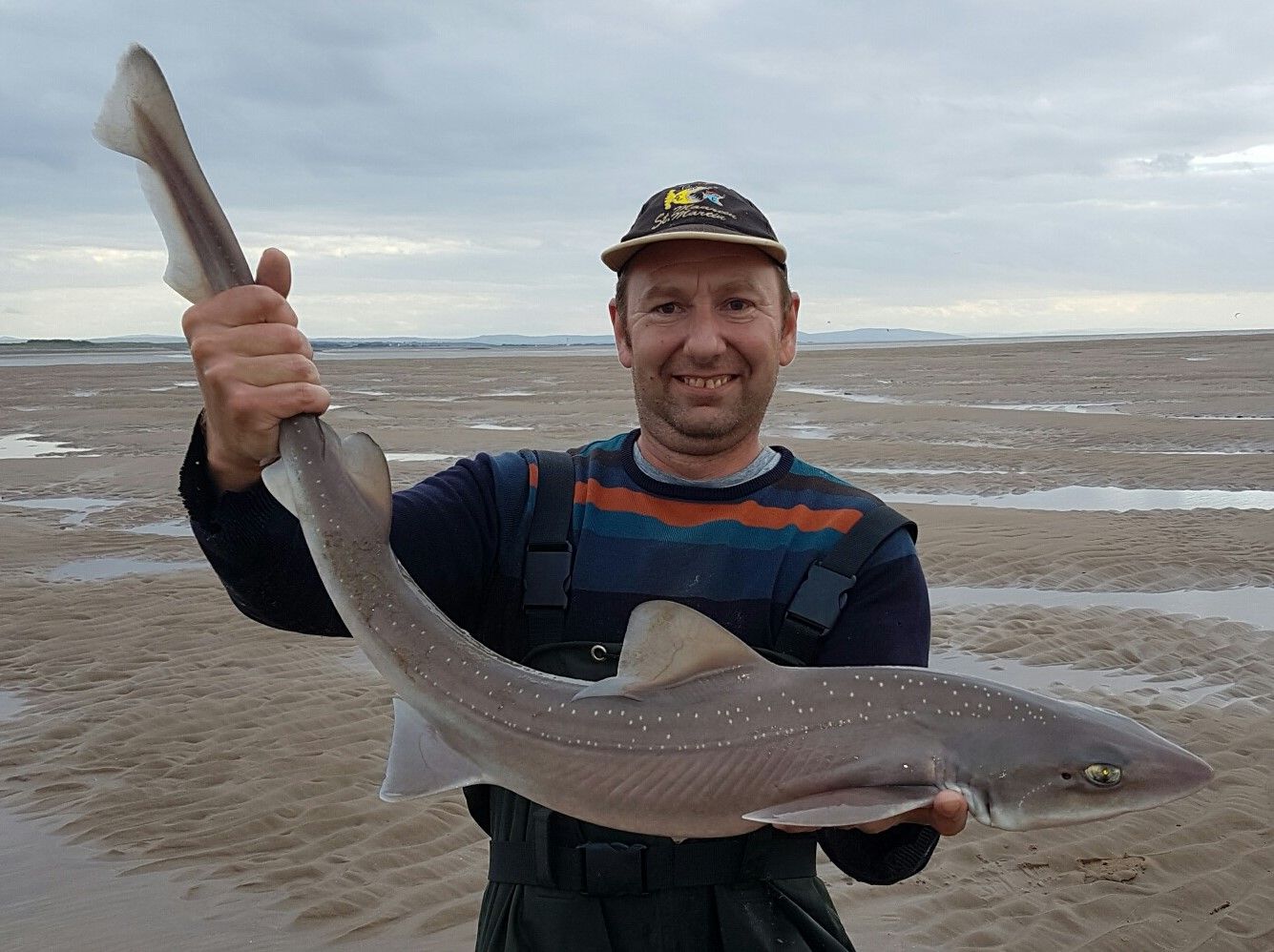 .. and yours truly completed a session which on the night had a very good average size of 7lb, with a nice pair of hard fighting 7lb fish..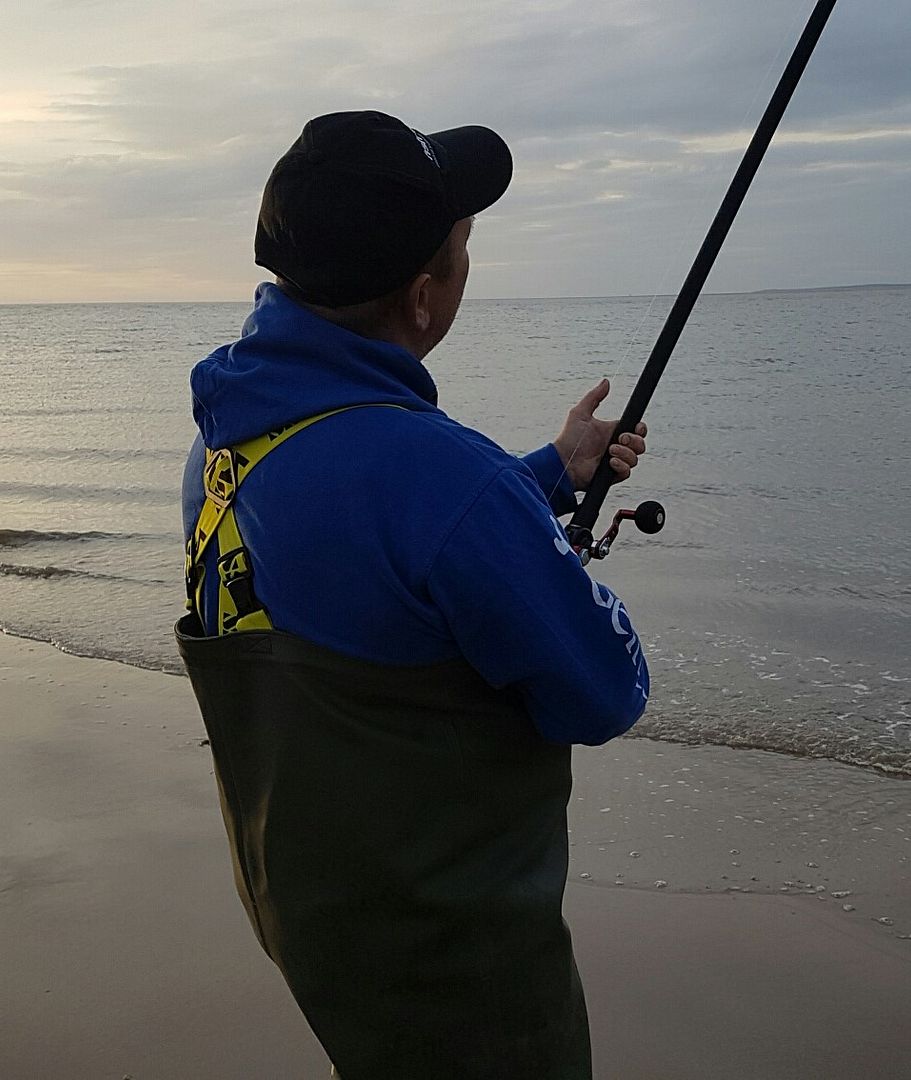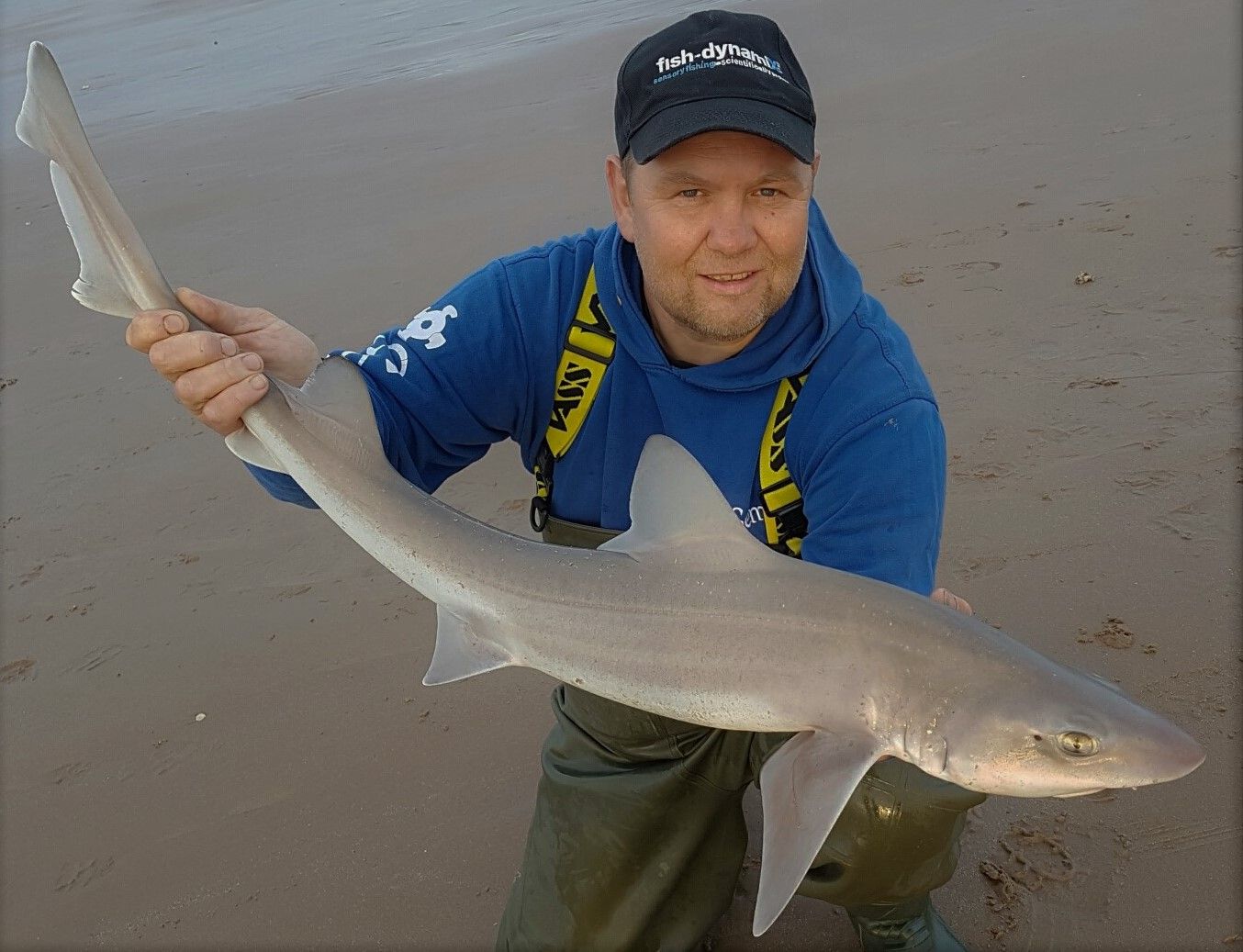 A truly memorable evening where it was topped off with a fine sunset!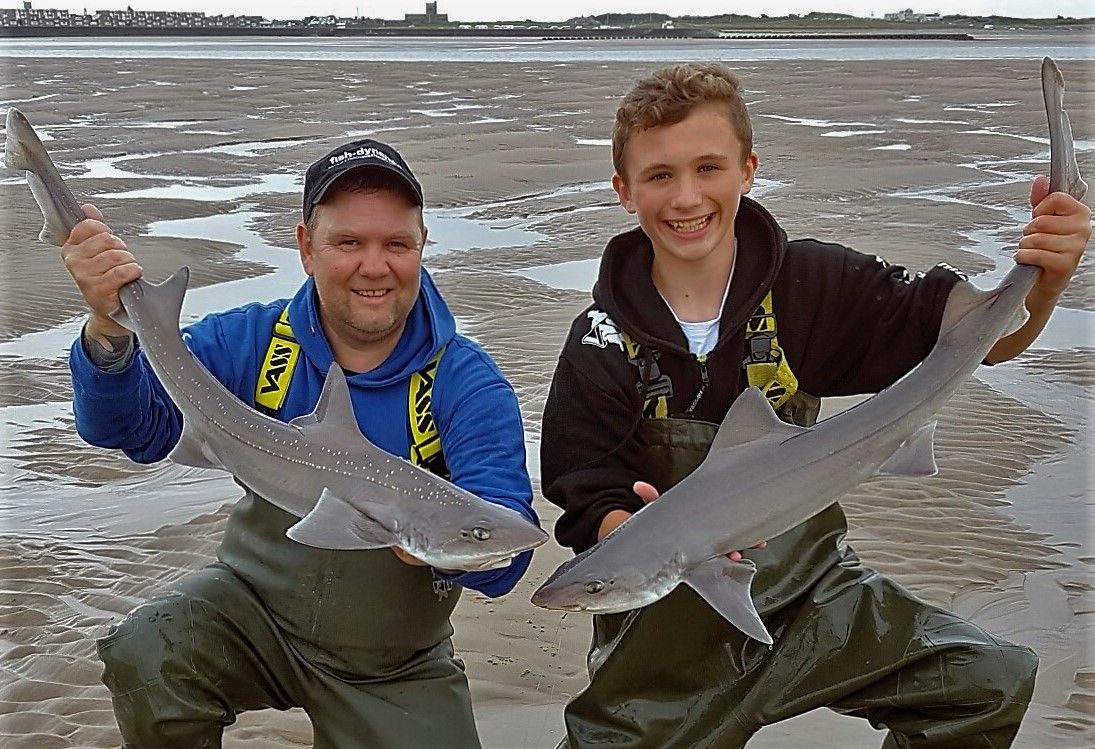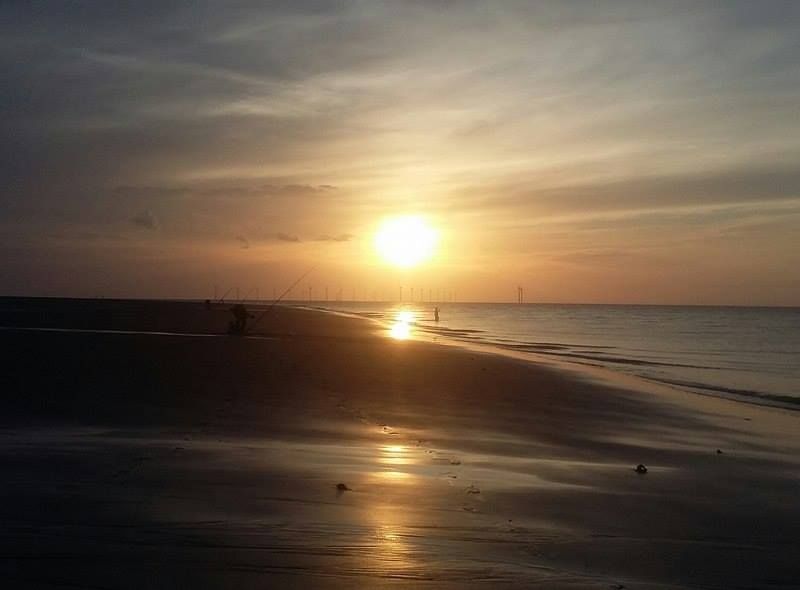 After such an amazing session the day before I was itching to get back on the Channel again…. So Saturday I returned, again with Dylan and this time meeting up with Godders for his second sesh this year.
Keen to get out there I made the crossing as soon as I could… a little earlier than anytime before… this made obvious as us shorta**es had to give it tip toes to avoid a dunking LOL
Once again, within minutes of casting the first ready prepared bait, the tip pulled down and the reel ratchet registered a good take as a sleek 'gummy shark' headed for Crosby..
Minutes later a lovely Common Smoothhound of 8lb 3oz lay in the surf and after a quick photo was free to return… just in time for the rod to go again!! And so this is how it continued for me for the next 2 hours! Hardly getting time to rebait the second rig in time and resulting in an all time best for me with 9 hounds in total!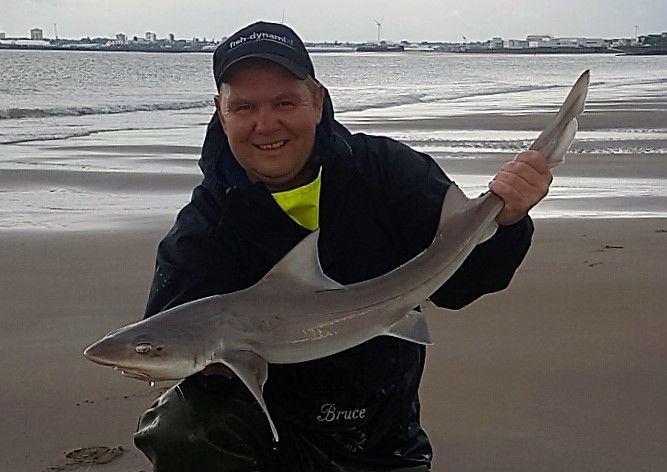 Looking up and down on the occasions I could, I could see that most guys out of the 10 anglers on there were getting amongst them again and Godders although experiencing a proper nightmare sesh still managed a nice brace and a Thornie himself.
Dylan once again fished liked a Trojan, wading to his chest to get the extra distance and continually 'double patting' and fishing hard, only to be rewarded on the night with 2 Weevers despite his mammoth efforts. I almost burst with pride when he commented 'ah well at least I didn't blank, and I got a species for the hunt' …. Top Angler!
As low-water approached and I turned my efforts to getting the gear ready to head off home the rod pulled over for a final time and a heavy bumping fight resulted in a nice Thornie of approx. 6lb….
Get in!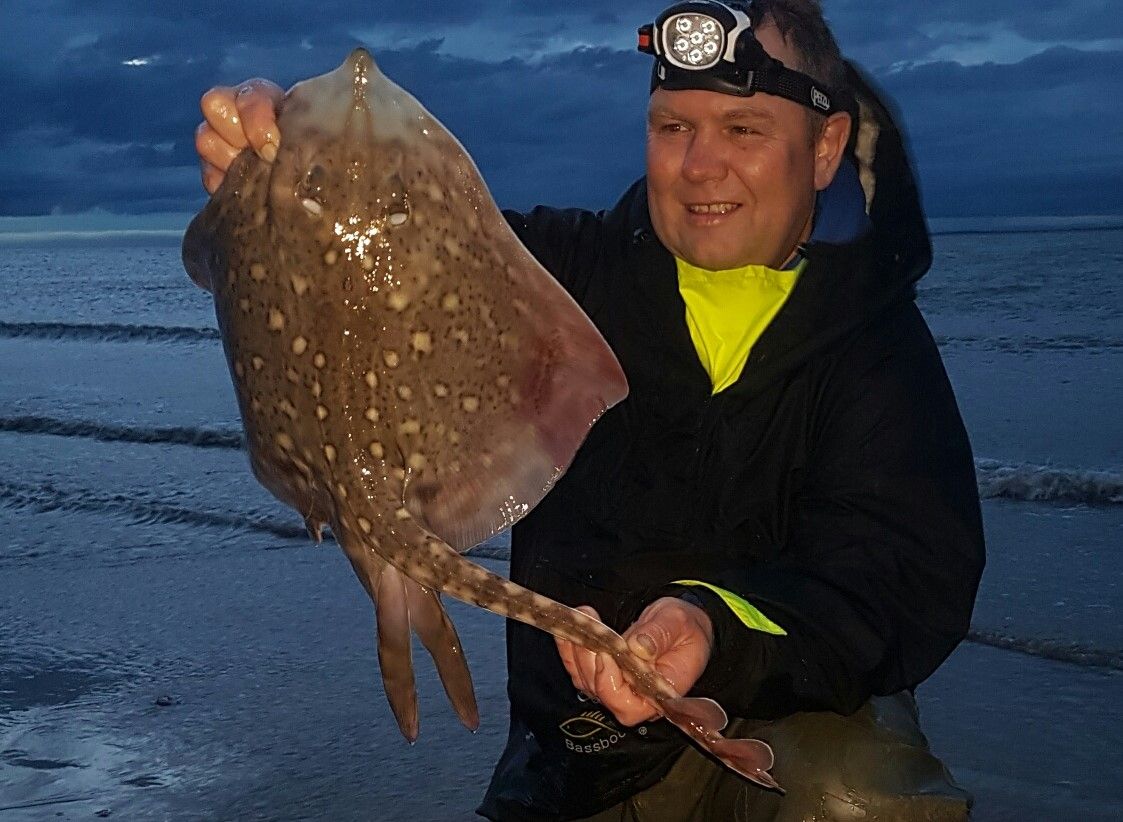 Despite the incessant rain for most of the session
the walk back for me that night didn't seem so long as usual as I reflected on every fish … and I'm still buzzing today!
I'm away to look for more toothy critters this week, but still cannot wait to get back to those Smuts… I love em!