With a nice north westerly blow whipping up a surf along the North Wales coastline, Gaz and I decided on a crack at our first silver of the year. The plan was to shoot over to the free crab shop to bag some peelers and then head further down the Lleyn to fish a bass beach. Unfortunately the crabs didn't want to play ball and we only managed 9 between us so we had to change our plans.
We decided to head back up the A55 to Penmaenmawr where we could pump plenty of blow lug and fish the incoming tide. The blow lug were plentiful and we soon had enough for a session. The surf looked perfect and so Gaz was confident of a silver or two. Me, well I managed to go the whole of last season without a bass and so I wasn't overly hopeful. What's more, I'd just picked up my new Zzippy M4GT and so new rod syndrome was surely beckoning!
A nice gulley now runs across the beach about 200 yards from the high tide mark and we sent our first baits out just as it started to fill. 20 mins later it had a bit of depth to it and so we dropped short into the middle of the gulley. Shortly afterwards Gaz was in with the first fish of the day, a surprise plaice.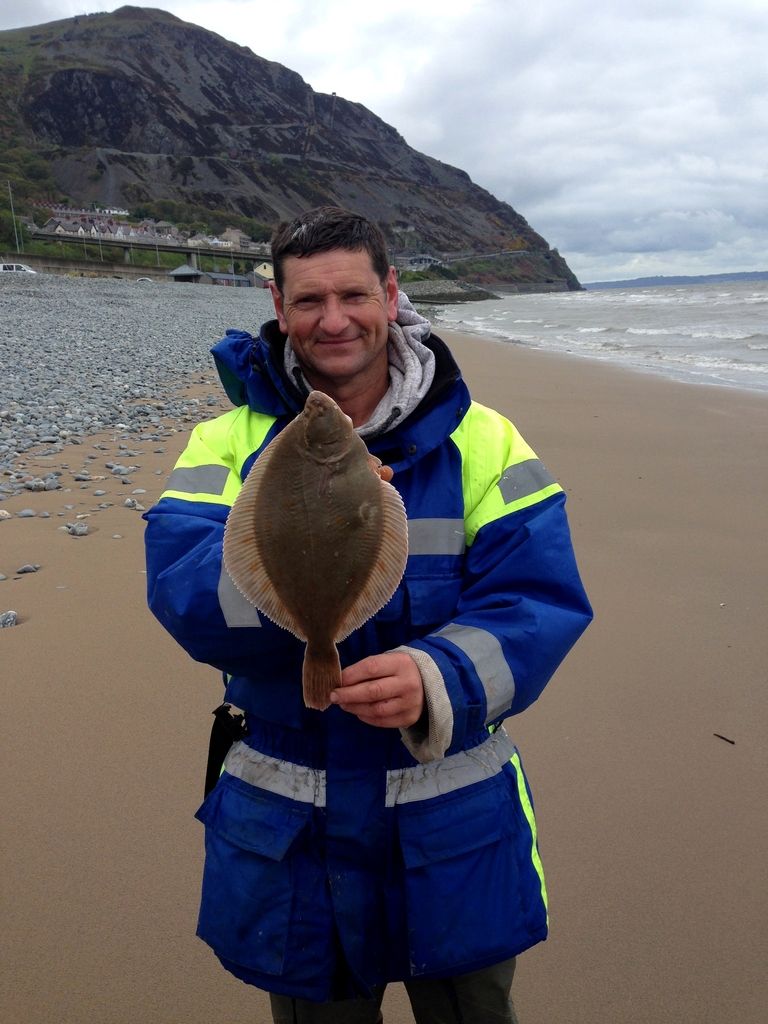 It wasn't long before I had a couple of knocks on my new rod and in came a flounder….new rod syndrome overcome!
I followed this up with another flounder on my next cast….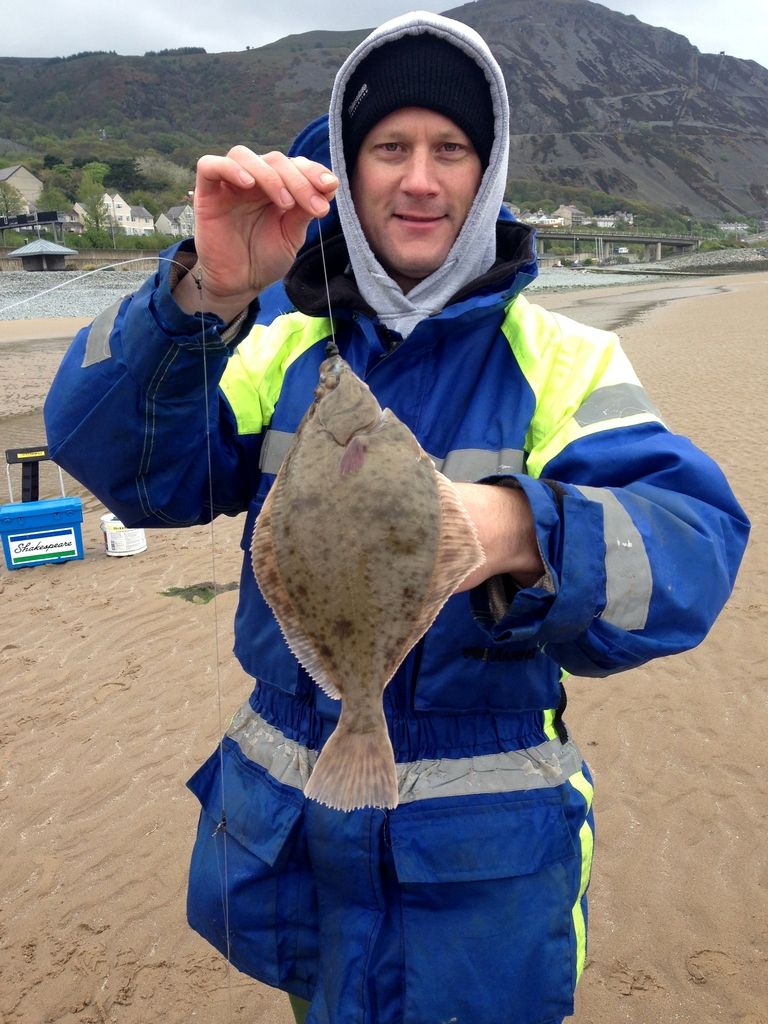 Then another…
The gulley was soon out of casting distance and things went quiet for a while. The tide pushed us back over the small gulley at the top of the beach and up onto the pebbled bank.
We were both fishing one rod long and one into the top gulley. Just before high water I managed to find another flounder in the top gulley.
It was all flats and no silvers, and as the tide started to ebb, so too did our confidence in nailing our first bass of the year.
About 30 mins into the ebb Gaz shouted over that he'd just lost a bass in the surf. Gutted! 30 seconds later he shouted over again and I turned round to see this…
The bass had cut him off only to beach itself seconds later! How's that for a piece of luck! It weighed in at 2lb 5oz.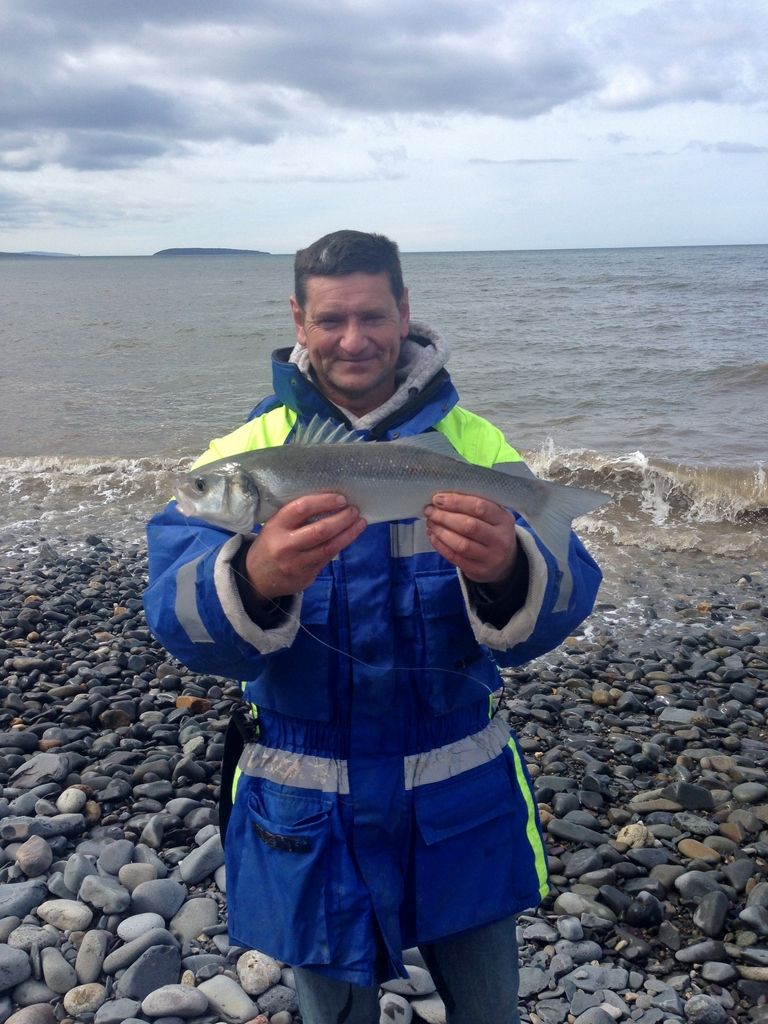 I was at this point that I began to have flash backs of all the bass I'd witnessed being caught by fishing buddies last year, while my rod remained stationary! What the hell had I done to upset the bass Gods?!
But then it happened…a series of sharp tugs on the rod tip. This was no flounder! And a minute or so later my first bass in over 18 months was beached. I'd redeemed myself!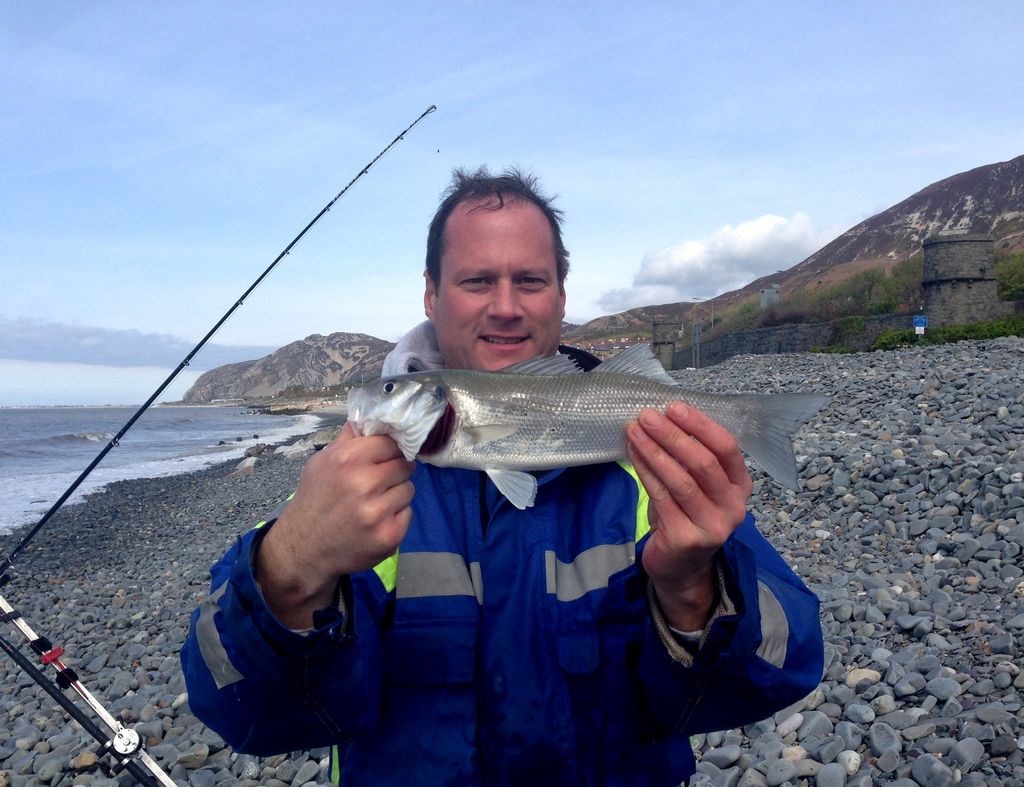 That was the last of the action as we wanted to get back to have a crabbing session at Moreton. That didn't go terribly well. With a trail of overturned rocks it was evident that somebody had been down before us, however we managed about 50-60 crabs between us and so we now have a few in the freezer ready for when the smuts start to show. Won't be long now.