Having managed to book the week of work, my plan was to get as much fishing in as possible weather permitting ! And the weather hasn't failed me
. I have been talking to Godders over the last 9 months about my mission to bag a silver on the fly rod using a home tied fly and having fished Cymyran Beach (RAF Valley) last year I took a liking to the river running behind the houses and have commented about it many times, as this been the place i would go and target the prize.
So with this in mind and the weather perfect for salt water fly fishing ( no wind ) I headed over to the mark today to fish it an hour before high and down. After nearly ripping the bottom out of the motor getting down to the car park i got myself set up not knowing what to expect or with any expectations of catching but grateful l i was out fishing and had the river to myself.
I dusted down and set my old reservoir rod up a Cortland GR2 7/8# weight, with a sink tip line using 10lb leader around 12 foot long and a home tied salt water fly, with plenty of blue and silver flashes.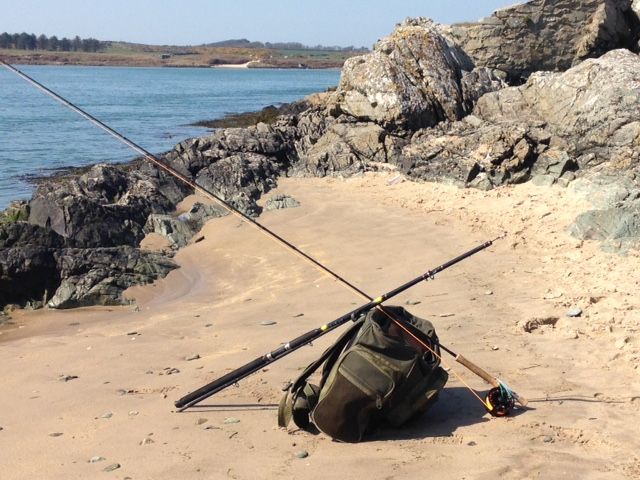 The first few casts and retrieves were trial and error with the tide now turned after missing the ebb, the line drifting round and past me in quick time so a change of casting distance ( 25 yrds ) and letting it work its way round steady out of the main flow using a short sharp retrieve helped settle my mind that i wasnt doing the wrong thing at the wrong time. Nothing was happening out in front of me so I cast down the bank about 5yards from the edge slowly keeping in touch with the line as it drifted towards me. The line went tight and I thought this is the first fly lost in the kelp / weed close in
. I gave it a short tug and then it went tight and shot across me
I'd hit into something but not knowing if it was a greedy Wrasse or something else. After a 15 minute tussle and my line out and now into the backing i managed to start getting the fish in towards me, using a reel without a clutch does make your heart pound !!
When it surfaced I was trembling with shock and excitement I'd done it, I'd bagged a bass on a fly, a home tied fly. So mission accomplished
and tea sorted for tonight Not the biggest but a nice 1lb 13oz silver the first of many i hope.
[/img][/img]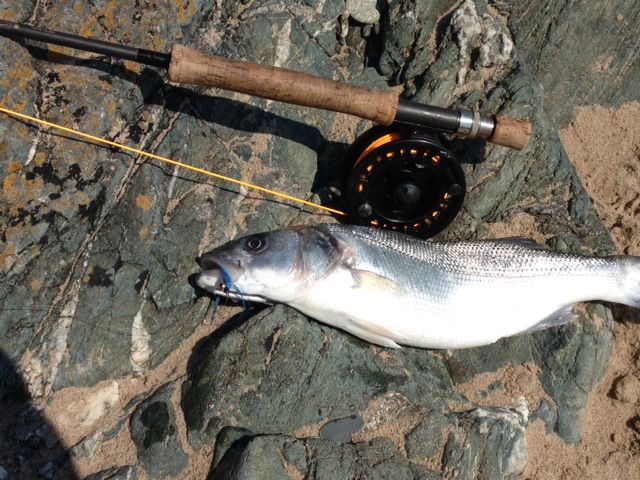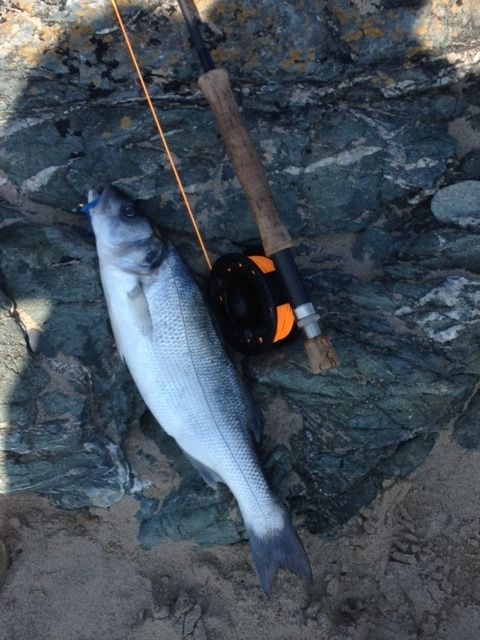 I was joined by a elderly gent soon after with a spinning rod who was local and fished there for 60 odd years who passed on some very good information regarding the mullet that are there all year round and where to fish for them, so tomorrows session is already planned with the fly rod again, this time the target been the very illusive Mullet so i'm not expecting any joy.