Introduction
The Sandon and Huskisson docks are on the Liverpool side of the river and offer fishing into deep water from comfortable marks into the main channel of the Mersey.
Requirements to Fish
These are active docks. They are under the protection of the Port of Liverpool Police. You
must have a POLSAF license
to fish these docks, otherwise you risk getting a criminal record when caught.
If you are the owner of a POLSAF license then you must obey the rules which are outlined here
Polsaf Rules
. Regards access we all stand and fall together, one persons actions risk
all
members having no access to these historic venues.
Also note this information is correct to the best of my knowledge at the time of posting, but access rights are subject to change (and change they do!) - always check the POLSAF site to be sure of the current situation.
The Fish
The fishing is similiar to the other dock areas covering the same stretch. As of winter season 2010 its having a reasonable showing of cod, but as always nothing is ever guaranteed. Performance on thornies currently untested but no reason that it shouldn't be similiar to the Alex. Low water gives the ever present dabs.
Getting there
As a map says a thousand words, here is how to get to the place on
My Google Maps
.
Hover over the features for more info.
Don't forget your pass, you
will
get asked for it at the barriers by the (friendly) guard. Please respect the driving restrictions, again one fisherman, 1 accident and we could lose all access to these venues.
A couple of pictures so you know what to aim for when pulling up for the first time.
Looking back towards where you would of driven in from. You come along to the left of the warehouse and the wind turbine. You can park at the wind turbine to fish the Huskisson, but as this is from an unrailed platform I suspect you should not fish it alone.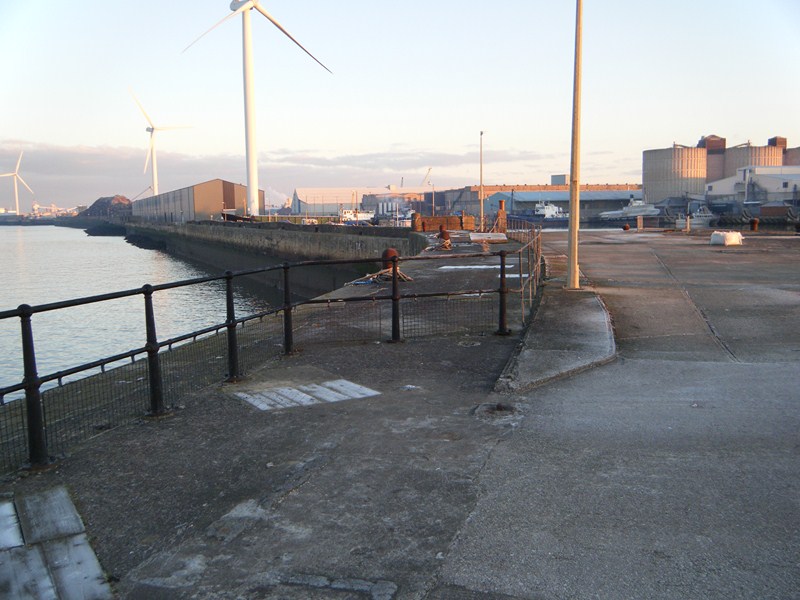 Sandon dock platform, bags of space.