I had a fantastic weekend at Llangorse for the European Kayak Fishing Championship organised by SWKA with some really nice fish caught.
I arrived Thursday evening, dropped the van off at the caravan and headed for the Red Lion hungry and thirsty from a days work and a long drive. It was only supposed to be a quick visit just some food, a pint or two and a little catch up but when catching up with old friends the time flies and the beer flows freely. Its been a while since I was shoed out of a pub like a fleeing cockroach.
Friday morning came sooner than perhaps I'd of liked, full of remorse I set about launching for Practice day. The stiff wind quickly brought me to my wits but I really struggled on the fishing front I just couldn't buy a bite and others around where struggling too with a few jacks being caught here and there. Practice day was also my first proper go at using the 180 drive which I stole from my new Hobie Outback as it awaits rigging. I made good use of it backing out of tight spots and using it to come to a controlled stop instead of coasting helplessly often into other kayakers. Unfortunately the 180 drive didn't help me put any fish on the yak and my lack of success with the lures left me questioning my approach so in the evening I scrounged some dead baits and float ledgering gear so I could try another angle in the competition. As always the evenings feed was to be in the Red Lion but with the forecast for the competition being heavier winds I avoided the Sirens call to have another and treated myself to a early night.
I'd been looking forward to it since last year but Competition day was here and I was feeling fresh which is not something you could of said for half the opposing field. I headed straight down to the far end to try my dead bait tactics but a few swims and hours later the dead baits just weren't working for me. Other anglers seemed to be picking up a few Jacks on lures so I changed back to what I know best despite drawing a blank the day before. My favourite lure a Super shad rap in gold was slung out the back with a perch Pattern jointed X rap providing cover. I used my FF to maintain a steady depth between 8 and 10ft which left the lures just tickling the weeds. I'd not been going long and as I approached Ian Pickering who seems to bring other anglers more luck than all the rabbits feet in the world the SSR was inhaled and my first pike of the day was hooked. Once at the kayak It was a bit of a clusterfuck (I try not to swear in write up but I can't find a suitable alternative) to say the least and with only two hands I ended up having to drop the rod in the water for the fishes safety and my own. Anyhow fish photographed on the measure, a few trophy shots and at 90cm all was good in the world...Except my rod. David and I tried with no joy to retrieve it for 15 minutes before deciding it was a lost cause and we where better of carrying on with out lives and we both set about the task of finding more pike.
Soon after a 94cm (PB) beast snatched the Jointed X Rap and graced my lap, a lively lass and not being far from the bank I played it safe landed for the measure.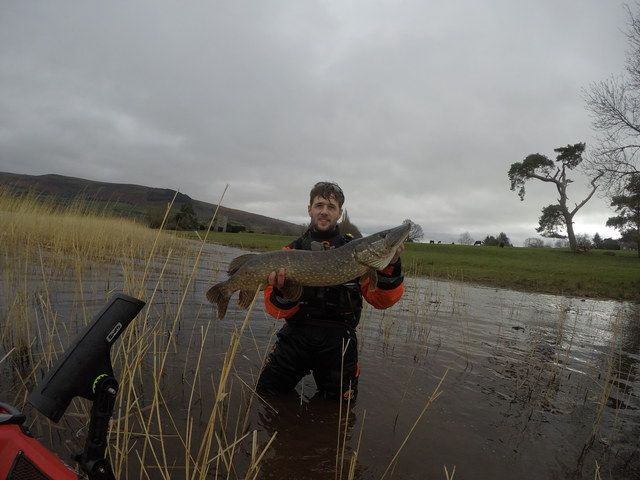 The pressure was now on I just needed another Pike, a jack would do. I had to cut a hook on the X-rap so stuck on a 20cm four play in firetiger, proper Jack candy. I cast out to the side and two peddles later saw me setting the hooks in a jack of 64cm. I felt the pressure ease off and I had a hour to play with to try find a better third fish which unfortunately never came but with a total of 248cm I was more than happy as it was enough for Third
Well done to Martin Collison on coming First with a very impressive 288cm and also Mark Radcliffe for landing a proper croc at 26lb 9oz... thats a serious fish mate.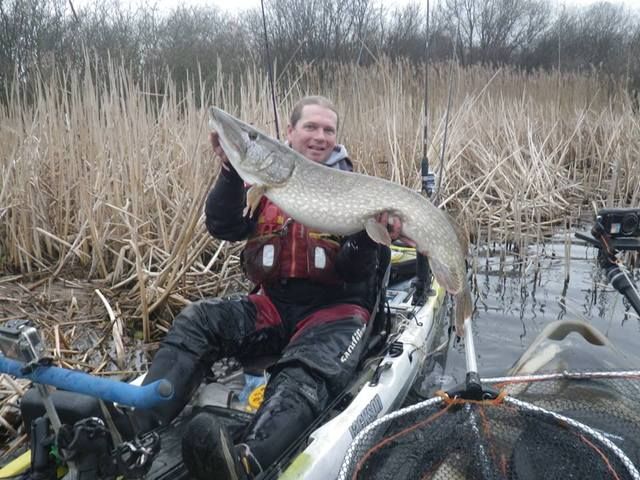 Big thanks to SWKA and in particular Edward Gibson and Martin Hurst for arranging the competition and Navionics, Raymarine, Fladen and Marty Mulcairn at WVA custom rods for sponsoring the event.