The WPC England Qualifier at Grafham Water was to be the first time Kayak anglers had been allowed to descend onto this highly prestigious water. Home to huge Zander to over 20lb, Perch in excess of 4lb and Pike regularly breaking the 30lb mark it just made sense to get involved. As if having a shot at some of the country's biggest fresh water predators wasn't enough then there was the £18K (albeit not just for the kayakers) prize table to fish for and I was pretty keen to get my share!
I arrived Friday evening said my hellos and pitched my camp in readiness for the weekend. As usual we all stood round wondering who was going to be the one to start the march to the Pub... an integral part of the process that for some reason wasn't marked down on the weekends itinerary. It turns our there was no lead character and as a unit we just gravitated towards The Wheatsheaf. The food, company and Ale was great and it was an evening I probably enjoyed a bit too much.
I woke Saturday morning a little groggy to say the least but it was nothing a little rain and a stiff wind wasn't going to sort out. After a quick brief from Gary Palmer we where cleared for launch but due to the high winds forecast we did have some limitations in place that meant we could only use part of the Reservoir and as the winds where due to pick up even more we were ordered to be back in for 2pm but to be fair I was just happy we could get out there and fish as at times it looked doubtful that it would happen.
As always the prefish is just about getting a feeling for the water and finding a few fish/likely areas that could then be marked down on the GPS. In a few hours fishing I'd lost a small Zander at the side of the yak and had a small Perch, I was hoping it would be a little easier but at the slip it was confirmed that most had struggled. Speaking to the boat anglers that had more experience at Grafham the more productive areas where on the far side of the reservoir that we couldn't fish so I still had high hope for the Sunday.
Sunday morning arrived and I was feeling fresh as I'd had a early night having successfully avoided the Sirens call to the pub instead having a few beers at the site to wash down the Hog roast put on for us the night before. The launch at 8am went smoothly and I was soon putting the pedal to the metal Pump tower bound. I tried around the pump tower for a hour or so with no joy and I started fanning out to find some better ground. On the fish finder I'd located what I'm assuming was an old river bed in 30ft of water. With steep 5ft drop offs either side of the 10ft or so wide bed it was a safe bet there would be a Zander in there. I worked away changing lures and presentations to no joy. Reports from yesterday was that the Zander where liking white lures so I decided to give it a shot. I knew Dizzy was fishing the same channel further down and so using him as a reference point 45g of lead was given some air time. It settled on the bottom and after a few bounces back towards my Kayak the rod locked up... Fish On!
It felt a decent fish but it wasn't until after a long tussle that I realised just how big it was. I remember swearing a lot but the rest is just a endorphin induced blur.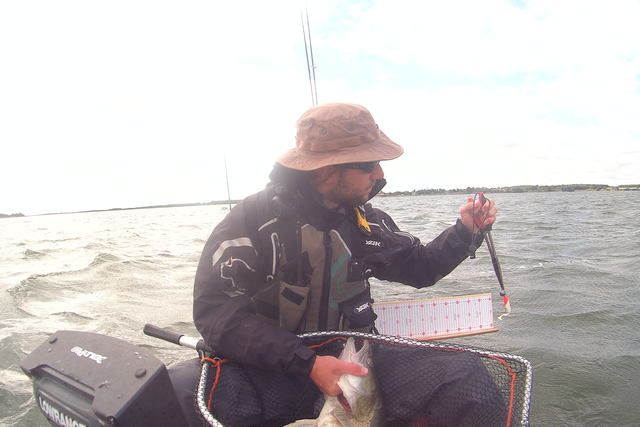 76 cm of chunky Zander lay on the board but not for long as it had other ideas. Fortunately I managed to get a picture of it before It went back in. For those that don't compete the next few photos show the struggle we face while trying to measure and photograph fish. At least I got a shot of it on the board before it did its Tom Daly impression;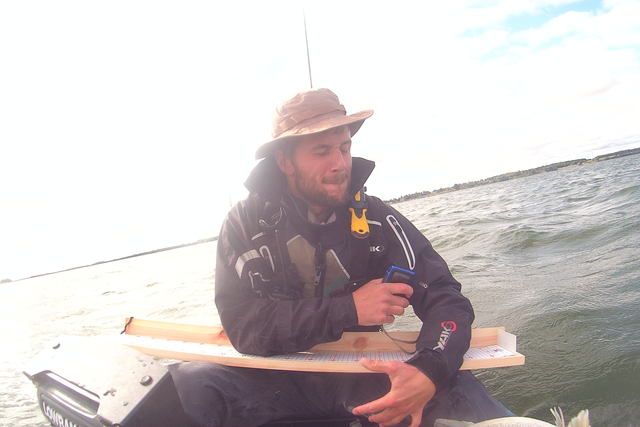 I spent the next hour trying for another Zander but little was getting caught around me and I knew I stood a better chance at getting amongst the Perch than catching another Zander. My mindset was that the Zander was a solid starting block on which to build on as If what I witnessed was to continue then few Zander where to be caught.
Working my way around the reservoir there was a gathering of boats in a localised area and on observation they where catching small Perch, I slotted myself in and quickly brought a Perch to the net.
It was starting to get quite busy so I left in favour of finding my own space. I found a nice shoal of bait fish hanging just off a weed bed next to the dam and so I started working a selection of small lures beneath them. I spent half a hour without joy and contemplated making my way back to the boats. I gave it one more drift and I'm glad I did. A weighty fish took my lure near the end of the drift and just kind of came up with minimal resistance, a 3lb plus Perch rolled at the surface before going absolutely mental, It felt like forever before it flashed its Red fins at me but this time I made sure a net was waiting. A PB at 45cm.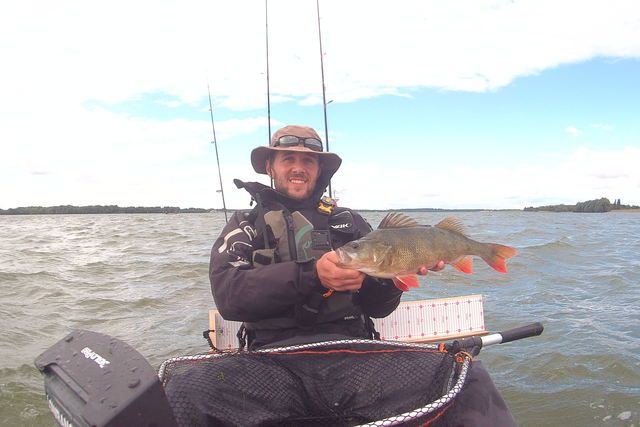 I gave it a few more drifts with just the occasional nibble and with a hours fishing left I was faced with the tough call, do I stay and wait it out for another biggun or do I play it safe and hit up the Perch shoals the boats where hammering. I knew another in size Perch would but me up there so I played it safe. The other competitiors around me where pulling out Perch left right and centre but I couldn't even get a touch. The clock was counting and Lee was making his way over to say times up we've got to head back but at the moment the tip rattled and up came a Perch, small but over the minimum required size but I knew it would make a big difference in the final standings.
It took us about half a hour to make our way across the reservoir as it was pretty rough but we made it back with plenty of time to spare
After handing the score card in I made sure to rinse the Kayak and all equipment thoroughly in order to prevent the spread of the Killer Shrimp present at Grafham. It was then a waiting game for the presentation.
I came 2nd in the Kayak competition of which I was more than happy with as after landing 2 great fish in a day the competition was truly secondary. I also managed the longest Kayak caught Perch which was on Par with the longest boat caught and I also had the longest Kayak caught Zander only being beaten by 1cm by the boats so I was on cloud nine however the hole host of prizes that ensued kept me firmly anchored to the ground.
This weekend has been quite simply put one of the highlights of my time afloat and without all the hard work from the organisers and sponsors it wouldn't have happened so Thanks for all your hard work! Well done to everyone who caught fish it was very hard going out there and in particular well done to Mike who came first and also had the longest Pike and Lars who came a very close third top fishing gents.