IanW asked to join me for a session on the fly so we arranged a trip this morning, unfortunately he couldn't make it due to a combination of being a fair weather angler and being whipped.
The weather forecast for my usual haunt this morning had been dicey all week. Winds where forecast to pick up to the mid 40s by 10am complete with a smattering of rain... couple that with poor reports for the last week and the thought of another wind swept session with only a tiddler as compensation just failed to excite me. So I elected to fish Mere Beck instead where atleast if conditions and the fishing was poor it would atleast be a new venue recce'd. Until I checked Facebook last night and saw the staff at Llandegla had introduced a few big blue trout into the pools. It's rumoured they fight much harder than rainbows and the realistic prospect of catching one inspired me especially after seeing Richie's blue last week, stunning looking fish and I wanted one of my own. There was also a free bacon butty for the first person to land a blue over 5lb... Challenge accepted.
I turned up about half 8 and a angler was already fishing, he'd had some interest but nothing to the bank but things where looking good. I paid my ticket and tackled up, I kept my flies natural looking but I was getting little interest so it was time to make a change. I mentally short listed a few patterns but then when going though my box I remembered an article I read a few months back about using an attractor fly not to catch fish but just to draw them in. The fresh stocked fish will often take the attractor but the wiser fish often turn away when they realise it's not right but it's job is done and when it does turn away bang there's a drab and more natural looking offering that's rarely refused. Kind of the fly equivalent to standing next to some one with a face only a mother could love just so we looked better. Anyway, it worked.
A few casts later my first rainbow of the day was in the net quickly followed by a few more. The fish where really pulling hard today, they normally give a good account for themselves but today was something else. I think after letting there bodies adjust to the low temps they where in prime condition. The exceptional fighting quality was noted by every fisherman I spoke to today, 2lbers where really getting my heart going!
A angler who was fishing the middle pool came over and asked what flies I was catching on. Turns out he'd only been fishing a few months so I turfed over some flies, let him take my spot and showed him how to go about fishing that swim. I moved around the pond abit with the wind in my face, something I've tried to avoid in the past due to the casting complicating but with a little adjustment to my casting stroke I was punching the flies out no bother. I had another rainbow which tangled the life out of my leader so I tied a fresh one and let the flies takes on some water for a few seconds in the margins before fishing again, I went to cast and the line shot off, my casting line was gone then the reel was paying out as the fish attempted to seek sanctuary in the weed beds, I applied some more strain and it all went slack, cue some choice words
I knew I'd lost a decent fish but what can you do.
Next cast resulted in a 8lb rainbow, she just didn't know when to give up and took a while to get in.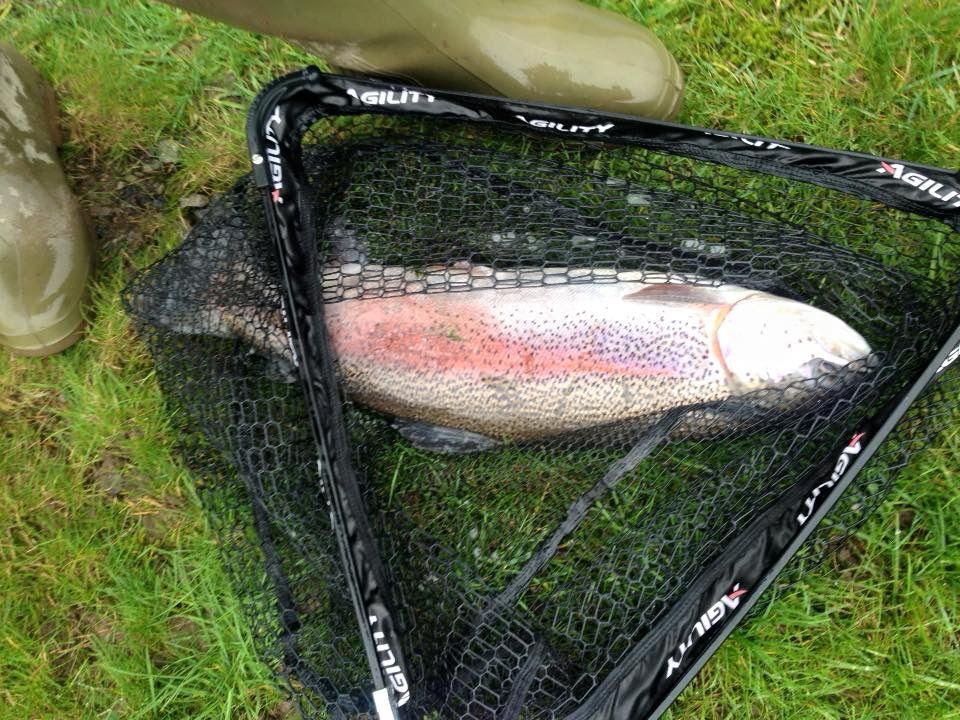 I took a few more rainbows and then I had a severe case of de ja vu when before I knew what was going on I was on my backing, a blue trout erupted from the water and it was game on with me shouting frantically Blue Blue. Fortunatly this time the hook stuck fast and after what was one of the most exhilarating fights I've ever had complete with fantastic ariel displays she was in the net. It was one of those times where time stands still. A few anglers gathered to offer support which to be fair just added to the pressure as they muttered don't loose it, it's a good fish, take it easy... It just doesn't help
Here she is, all 6lb 11ozs of her and I can confirm that the rumour is true they do fight above there weight and Bacon tastes better when it's free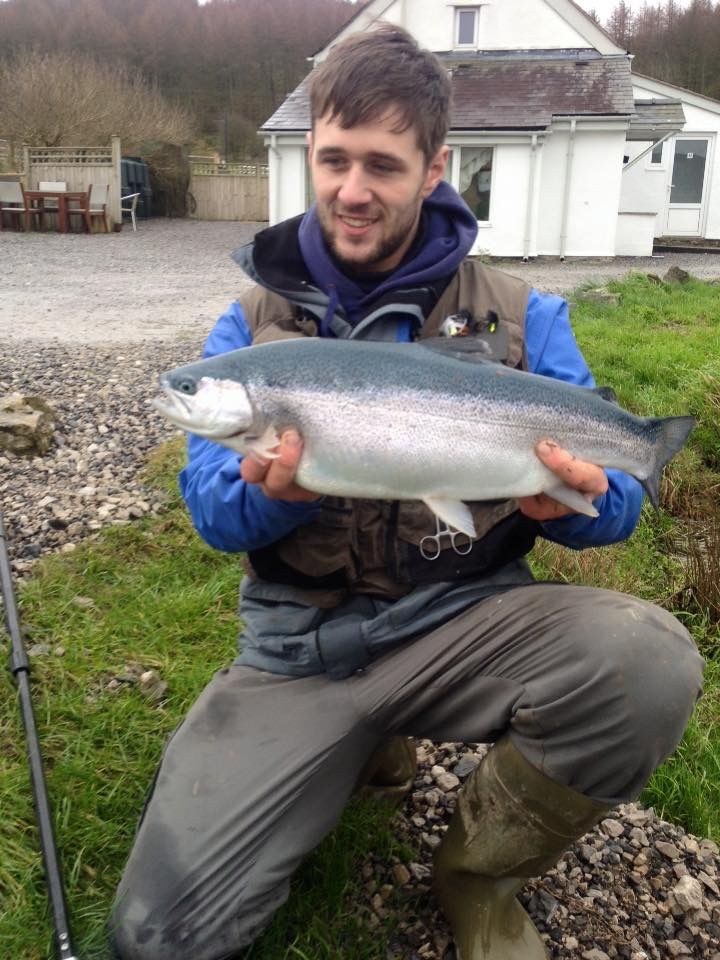 I had 11 fish in total 10 on a small black bugger and one on a pink blob.... The blue as it happens