I've not posted a report for a while so I'll try make this good, even if it is fresh water
I ended up working yesterday so I failed to be anywhere near organised enough for a kayaking trip especially with the hit and miss forecast and I'm also sporting a pretty nifty toothache. My plans to join some of the kayaking lads out from Moelfre today were well and truly scuppered. I'm still waiting to hear back from them but judging by the forecast it'll have been pretty lumpy but they will have no doubt winkled out a few fish against the rocks that afford them some shelter.
With my plans shattered, my girlfriend left instructions for me to get some jobs done on the house, the kitchen doesn't even have a functioning tap
ASDA Check, empty pockets of the fleece that's been laying in hallway for nearly 2 weeks Check, Hoover the living room Check, carry on with kitchen
I'm not domesticated nor wild but at best I'm half feral, somewhat like a cat, keep feeding me and I'll keep coming home, to satisfy the keeper occasionally I'll play the game and chase string around the living room or in this case the hoover but I'd still sooner be outside doing my thing.
It was a toss up between lure fishing for pike or fly fishing both of which require minimal planning due to the distinct lack of bait or tidal constaints. The carp lads would still be harassing my go to pike waters and it won't be until the first frost that they start tackling down for winter, fair weather anglers
So I was left with fly fishing by this point it was too late for a day on Brenig which had been the only place I'd fly fished and even then I'd only been 3 times and from a boat... somehow I'd of felt more comfortable drifting 920 acres of water than fishing a small stillwater.
I opted for Llandegla Fishery, I'd drove passed it many times before so though I'd never stopped by, it was somewhat familiar. I made a call to check it wasn't too busy, to see how it was fishing and to see what flies had been doing the damage. The bloke seemed quite chirpy that a regular had landed 3 trout in 3 hours that morning and most people weren't blanking and he went on to say anything black and green or Montanas... neither of which I had in my box. If that's what a regular could muster with go to flies It would have been easier to just stay at home.
I loaded the car double time and quickly found myself in traffic trying to join the M56, Still I made the fishery in less than a hour and just in time to buy a 4 hour sporting ticket which would take me nicely into last light. I walked around the 2 trout ponds and spoke to a bloke that had been fishing since 8, he had managed a grand total of 2. As always its just nice to be outdoors I told myself before going back the car and tackling up. A few fish where moving in a corner of the nearest pond so that's where I would start my assault.
Less than 5 casts and I was in on a Olive Damsel Nymph I'd tied myself... remember catching a bass on the first peeler your collected or the first codling you caught on lug you pumped yourself? Yeah there's that feeling
I landed another 2 fish from that first pond, one more to the Damsel and another on a wooley bugger, yup, tied by yours truly. There's also a tail of the one that got away, I saw a large fish surge across the surface and made a cast to it. Stripping my fly's fast across its path got its attention, it turned and took a fly, I set the hook and the fish charged me and unable to take up the line quick enough is slipped the hook, such is the problem with barbless rules
Twas a good fish though
It went quiet no bites nor activity so I moved to the next pond as It was clear the fish where feeling the pressure. They are literally ponds at just over a acre each, you can cast one side to the other but don't let the small size mislead you into thinking these are rich pickings, these fish are wise, there fished for everyday and most that get caught go back in and due to the small size of water they see another 'fly' almost instantly.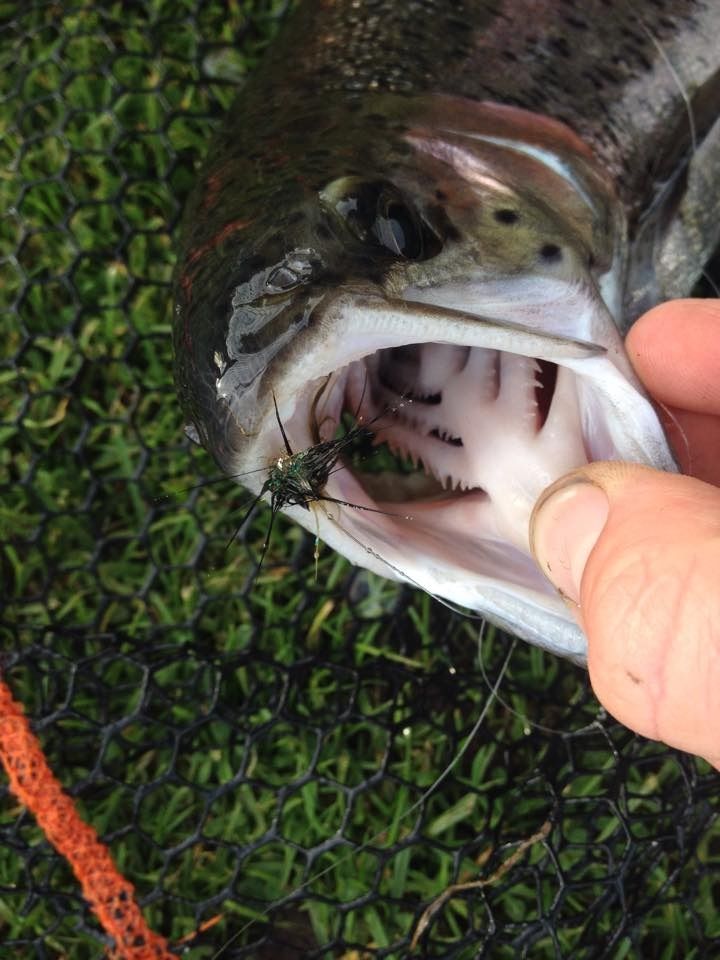 My move paid off and I was soon scooping up another trout.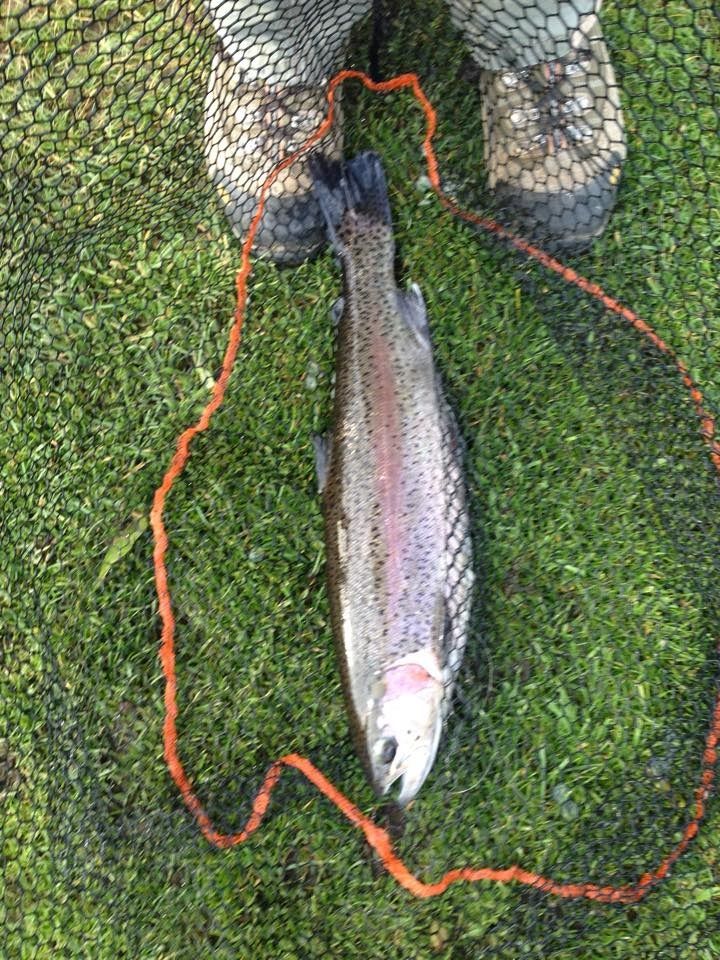 A double figure rainbow started crashing just a rod length to the right of me no doubt shedding lice. Still I tried numerous flies to get a take but no matter what I did it just kept leaping out the water. I put it behind me and plucked number 5 and 6 out from the next swim.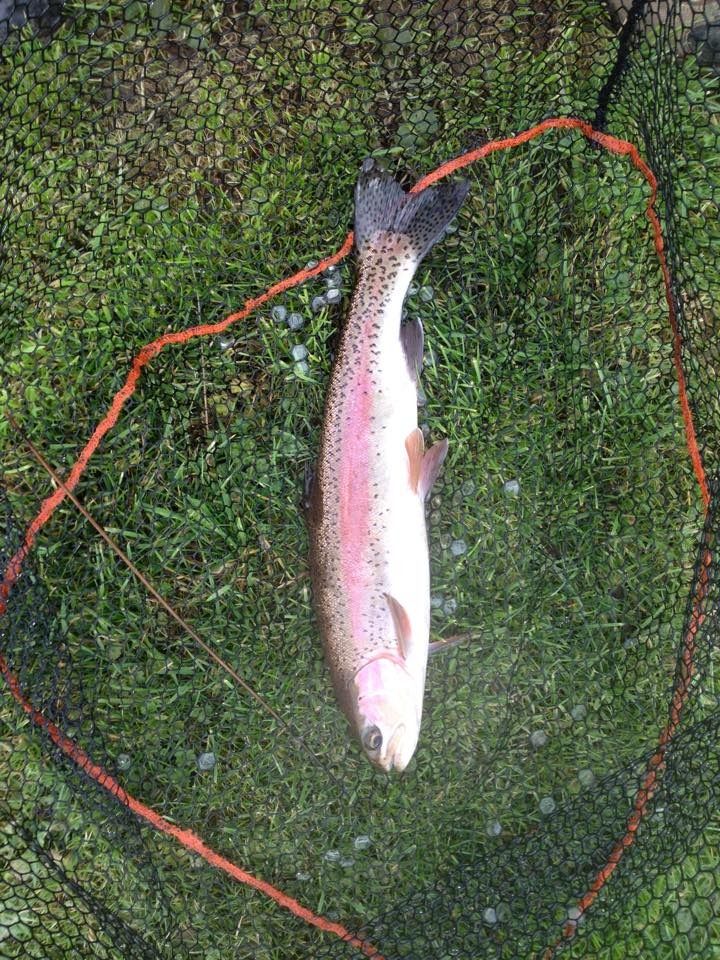 The light was fading away and though I was catching and the fish still active the first pond just kept calling me back and that's where the quest for number 7 started.
Throughout the session I'd missed a few bites and lost only one or two fish that where actually hooked and pulled back nothing out the usual. However chasing number 7... After the second loss in quick succession I checked my hooks over as It seemed obvious something was amiss, I expected to find an opened out hook but all was ok. I fished on loosing a third and then a fourth before thinking about calling it time, even the sporting tickets aren't cheap so I made a pact with myself that I'd carry on no matter what. Once again I was in, like the four that had gone before it, it thrashed and jumped, maybe the fish become hyperactive once the sun sets? This time 7e made it to the net and I felt at ease. I had ten minutes to go fishing in almost darkness and added number 8 to the tally
Not a bad session
I started filming just before fish no 6 as I forgot I had my head cam in the car. I also got the first two losses in my quest for number 7 until it got too dark for any kind of film quality, the editing isn't great but it gives a good impression of the fishing
https://youtu.be/FoFs_ZLAhKo