1st - Jeff White....................68cm - 11 Points
2nd - Adam Roper.................64cm - 10 Points
2nd - Dave Radcliffe...............64cm - 10 Points
4th - Dale Edwards.................63cm - 8 Points
5th - Andy Wilmore.................62cm - 7 Points
5th - Ste Trish.......................62cm - 7 Points
7th - Mick McAloon..................61cm - 5 Points
7th - Richie Fisher...................61cm - 5 Points
9th - Dylan Kensall...................60cm - 3 Points
9th - Jordan Roberts.................60cm - 3 Points
11th - Gary Swift.....................59cm - 1 Point
11th - Roy Schofield..................59cm - 1 Point
13th - Dave Roberts..................58cm - 1 Point
13th - Andy Jenkins.................58cm - 1 Point
15th - Steve Duffy....................57cm - 1 Point
15th - Mike Davis......................57cm - 1 Point
15th - Lee Hobbs......................57cm - 1 Point
18th - Brian Roper.....................45cm - 1 Point
19th - Andrew Hoyle..................32cm - 1 Point
20th - Graeme Stuart.................31cm - 1 Point
21st - Gaz Williams....................28cm - 1 Point
Longest Fish Pool.......................Brian Roper - Codling 45cm.
So Round 3 of this years Winter League saw 21 anglers make the return to Vale Park for the second of our two trips here this winter. The inclement weather in the week as well as the easterly wind that greeted us put a bit of a dampener on our hopes however we all got tackled up and made our way down onto the prom to wait for the tide to drop. Here is the team photo for this one.............................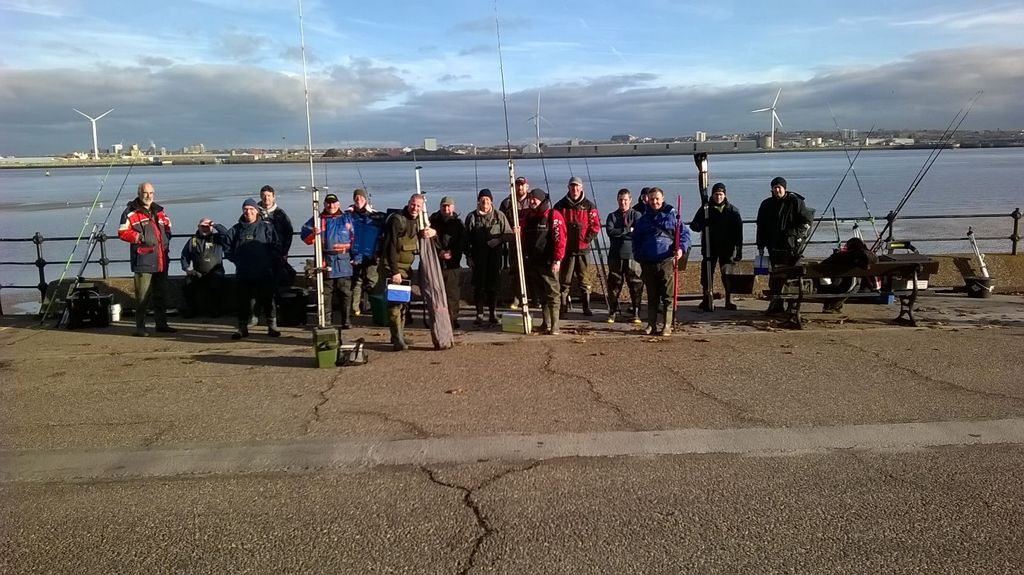 Once out onto the beach we were soon ready to go and 21 baited rigs were send skyward in the search of Codling, Dabs, Whiting and anything else that might be swimming about. The first half an hour was slow going with plenty of motionless rod tips, irrespective of whether it was big baits on loop rigs for the Codling or smaller scratching rigs, the search for the much needed flat and round combo got off to a slow start for most...........................
A few fish then started to come onto the bank, mainly Whiting and some of a good size yet again with around half of the lads taking Whiting in the 30-37cm bracket to get their round fish on the board. There was however a distinct lack of Codling to be seen and anyone who managed to find one would put themselves in pole position as the match progressed. Just after an hour in Brian Roper did just that with this nice clean run fish of 45cm which would be enough for him to take the longest fish pool.......................
Half way in and most people had a Round fish however few had managed the flat and round combo with only Steve Duffy, Roy Schofield, Dale Edwards and myself with two fish on the board. Flats were again proving hard to come by for some and it was going to take some effort and something different to find the better fish. Richie Fisher then showed how its done yet again with his Urf rig which produced this nice little Plaice of 28cm to give him his Flat fish...................................
As we progressed into the last hour the Dabs then seem to come on the feed in little pockets along the bank which then saw most people getting two fish on their card making for a very close finish.
Dave Radcliffe and Roy Schofield both upped sticks and moved and it proved a good decision for Dave in particular as he managed to find a better Dab and also a Codling of 38cm to put himself right up at the top of the leaderboard in the mix for the win.
Brian Roper was finding Dabs however frustratingly for him, three of them were 24cm meaning he could not find an in size Flat fish to go with his Codling.
But it was to be Jeff White who would take the win. Jeff was only on a 31cm Whiting at half way however he yet again demonstrated why this format is so challenging and rewarding to fish at the same time as he continued to fish hard and in the last hour took both the biggest Whiting of the day at 37cm and the best Dab at 31cm to take a well deserved and first win on his debut year in the league.
All roads now lead to Seacombe Ferry over the afternoon high for Round 4.................