1st - Steven Atkinson.................81cm - 11 Points
2nd - Dale Edwards...................70cm - 10 Points
3rd - Richie Fisher.....................69cm - 9 Points
4th - Brian Roper......................67cm - 8 Points
5th - Andy Wilmore...................63cm - 7 Points
6th - Dave Radcliffe..................62cm - 6 Points
6th - Nigel Skilling....................62cm - 6 Points
6th - Lee Hobbs.......................62cm - 6 Points
9th - Adam Roper.....................61cm - 3 Points
9th - Dave Roberts....................61cm - 3 Points
9th - Andrew Hoyle...................61cm - 3 Points
12th - Roy Schofield..................60cm - 1 Point
13th - Graeme Stuart.................58cm - 1 Point
14th - Gary Swift......................56cm - 1 Point
15th - Gaz Williams...................48cm - 1 Point
16th - Dylan Kensall..................45cm - 1 Point
17th - Andy Jenkins...................41cm - 1 Point
17th - Dave McCreedy................41cm - 1 Point
19th - Jordan Roberts................37cm - 1 Point
20th - Alan Middleton.................36cm - 1 Point
20th - Jeff White.......................36cm - 1 Point
22nd - Steve Duffy.....................35cm - 1 Point
23rd - Mike Davis.......................34cm - 1 Point
24th - Stu Davies.......................33cm - 1 Point
25th - Maerig Darley...................32cm - 1 Point
26th - Kev Brindle......................31cm - 1 Point
26th - Mick McAloon....................31cm - 1 Point
Longest Fish Pool - Gary Swift/Steve Atkinson.......Thornback Ray 56cm.
An absolutely fantastic turn out for Round 2 of this years Winter League saw 27 anglers go to post with some more new faces joining the regulars at Vale Park. Such was the interest for this one I decided that my commitment to mug-shots could not extend to a marathon up and down the stretch getting 27 individual portraits so the much more time efficient team photo was chosen instead. Here's all the lads who featured in this one.............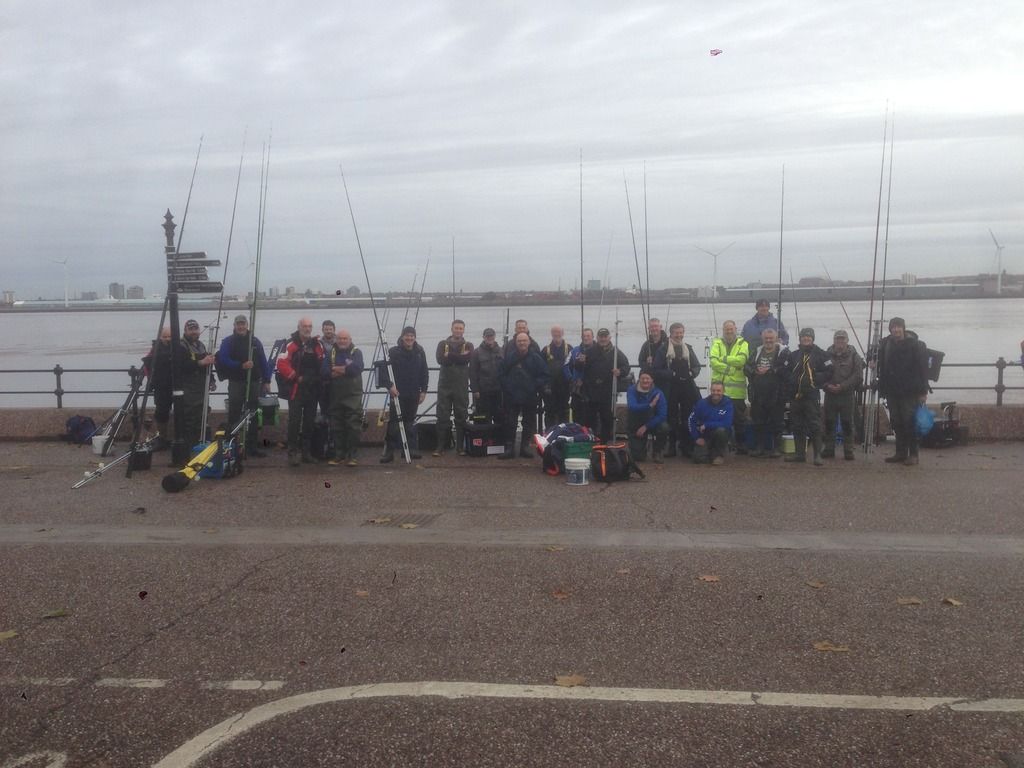 As the bank uncovered we made our way down and out onto the beach and got lined up pretty much along the who stretch. All in was called and we were underway.
Hopes were high for a variety of species and everyone looked skyward towards their rod tips to see who would be the first to strike. We didn't have to wait long to start to see some decent fish come onto the beach.
Winter League debutant Steve Atkinson was into a good fish and a cracking Ray of 56cm was pulled up onto the beach. Maerig did the honours with the camera so when he sends me over the picture I will add it to the report.
There were also odd Codling being taken by a few, not great numbers but great for your scorecard if you could find one. In the magic first 90 minutes the people to do so were Brian Roper with a 42cm fish, Dylan Kensall and Dale Edwards both took fish of 45cm each and Gaz Williams managed a nice fish of 48cm to give himself the lead in this years Cod Trophy after Round 2. Here is Dale Edwards with his 45cm fish................
Things were very bitty and broken down the stretch with some people taking a few fish and others struggling to find fish and also to find the elusive flat and round combo to get two fish on the board.
Another newcomer, Gary Swift, then got himself firmly in the mix with another Ray of 56cm which would see him take his share of the longest fish pool.
The reason people may have been struggling then became apparent when he popped his head out of the water less than 20 yards from the shore and proceeded to give everyone a show for the next 20 minutes, lounging around on his back and swimming up and down eyeballing everyone along the beach....................................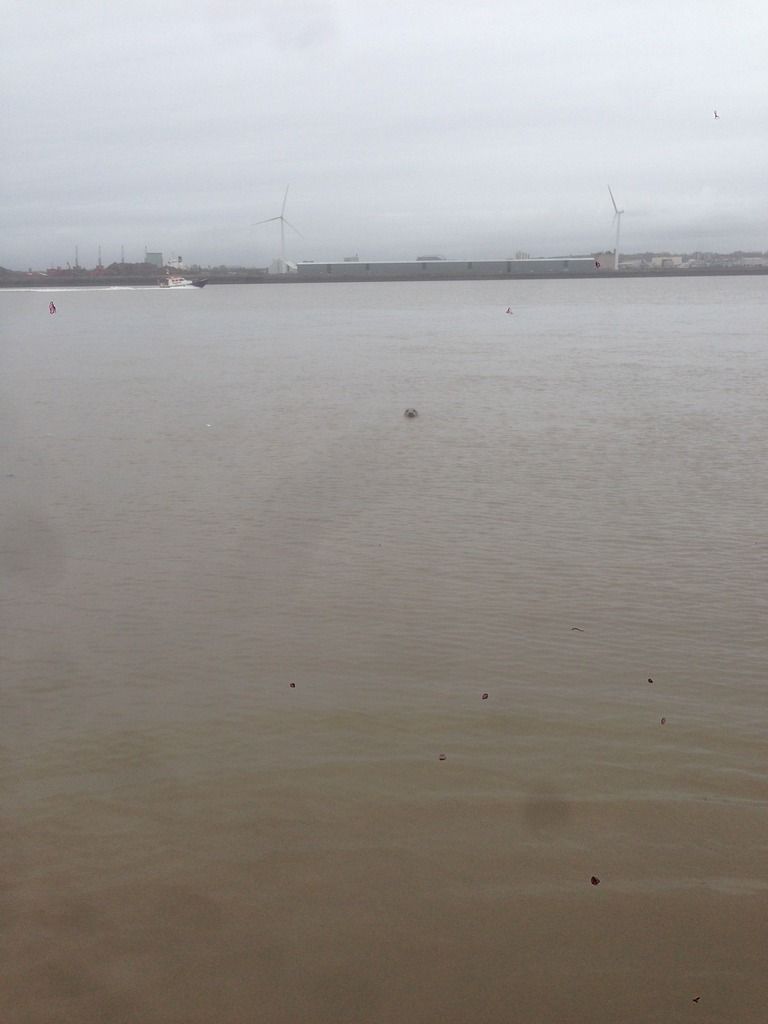 Yet again it was the elusive flat fish that proved to be key in this one with only 13 out of 27 anglers managing to get both a flat and a round on their cards. With attendances as high as they are you really do have to get two fish on your card to figure in the points and tactics and approach will again be critical when we return here to Vale Park in two weeks for Round 3..........................